Czech Food – Langoš
---
The full name that you might recognise is Langoustine but we call it Langoš (sounds like "lan-gosh"). You won't find Langoš in any restaurants as it is very much a street food option. From a distance it looks like some kind of small pizza. It's about as unhealthy a snack as it is possible to eat but strangely if you have the right tastes it is oddly satisfying so here's what to expect.
---
Historically and Options
You'll find variations of Langoš in any city from Prague to Belgrade and historically it's a meal with either Hungarian or Romanian origins depending on who is writing about it. The Romanian version can be with meat and can actually be stuffed but the Czech version leans towards the Hungarian in that it is open with primarily cheese, garlic and ketchup.
---
The Fun of Making Langoš
In the home environment Langoš is always a fun thing to make. Once you've made the dough you are supposed to put it "free floating" in the cooking oil so the bread expands randomly into some weird shapes that interest small children. You also have more options at home for instance we have something called "Kefir" which is a cream so you can mix the cream and garlic together or mix the cream and cheese together before putting it on the bread so in this case you don't need to use ketchup. I also prefer bread which has potato added rather than just plain.
---
Langoš is Oddly Satisfying?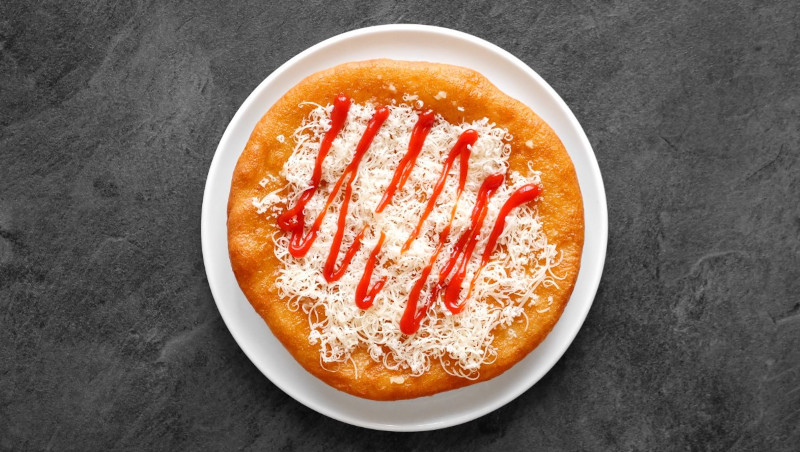 In the commercial environment the picture shows pretty much what you buy from the stalls in Prague. It is considered to be a hot street food option but really that is based on how recently the bread was deep fried in oil. That means if it has been on the rack draining for more than 5 minutes then this will be a cold snack. The size should be roughly the span of an adult hand. Whether you are going to enjoy it or whether you are even going to try it will depend on the first question you answer and that question is "Do you want Garlic?". No kidding, if you say yes then the vendor is literally going to paint your piece of fried bread with garlic using an actual paint brush. Then you get a sprinkling of grated cheese (which if the bread is still warm will melt). Finally he adds a version of tomato ketchup on the cheese and you are good to go. Langoš will be sold for czk150-170 from market stalls (doesn't seem long ago that I bought this for CZK70!!).
---
Tips for Eating Langoš
The previous picture of a Langoš comes from Cuketka.cz and it's pretty accurate for what to expect in Prague. They have a nice video on their site at https://recepty.cuketka.cz/langose/ which explains how it's made (Czech text but you get the basics) plus some alternate toppings at the end.
Look for market stalls which are frying things i.e. the Langoš stall will also be serving fried potato chips, potato pancakes and probably corn dogs.
Carry some napkins with you and a means of cleaning your hands after because they are likely to be very greasy. Be careful if you are drinking from a glass/bottle because it can slip through your fingers after one of these.
---
Something Related or a Few Minutes Away
---
Some Random Things to Do and See in Prague