Prague Massage Options
---
Back in 1996 when I first came to Prague I was walking down the street speaking with a friend in English and a guy called out to us if we wanted a massage. One look at the neon sign in the window and I was reminded of a trip to Bangkok the year before.
As I got to know the city better I found that Czech has quite a history of wellness and spas, mostly in the north and west. What you have in the city is basically divided into two specific Prague massage options i.e. walk-in foot/head/back massage and pre-booked treatments.
---
Walk-in Prague Massage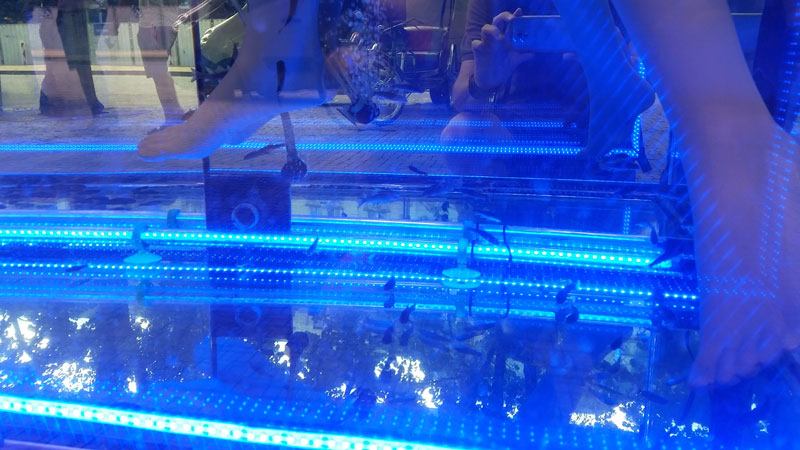 The walk-in options (and there are many) will start at @10 Euros for a 20 minute foot massage but you get to sit in a really comfy chair. It's amazing that all day the girls (and it is mostly girls) who do the massage will chat to each other so unless you speak Thai or Vietnamese you might want to bring a magazine with you. You'll spot the walk-in Prague massage places by their gaudy green/red colour schemes and the fish tanks in the window.
---
Pre-Booked Prague Massage
The pre-booked Prague massage options are either companies that specialise in different types of massage or hotels which have an attached "Wellness" area. Examples of both are below:
Ecsotica
The luxury Spa of the Alchymist hotel in the Lesser Town. They offer a standard Swedish massage, Balinese massage (long thumb strokes), Hawaiian (elbows and kneading) and the signature Alchymist massage which is a mix of all three. They also do a basic 30 minute back massage, a 30 minute foot massage and the 60 minute "DUO" which has two people working on you at the same time.
Escotia website
Mandarin Oriental
This is not just a Prague massage option, it's an experience in its own right. Look out for the "Ritual" which is basically 120 minutes set aside which starts with an assessment of your own physical/mental condition and goes on with a recommended treatment to help you. It's certainly somewhere that you reserve as part of your holiday rather than a walk-in service. Full details in a pdf file downloadable from their website.
Mandarin Spa website
Sabai
The treatments are whole body and partial-body including hand and foot reflexology. Most of them are in the 30-60 minute range however it can go up to 2 hours if you can take that amount of relaxation. My own personal favourite is the Slovansky Dum: The Vitality Prague massage (with coconut oil) and Morning Glory (Thai body/head).
Sabai website
Mystic Temple
My recommended massage here is from the Ayurvedic section the "Kati Abyango" (30 minute back massage) or the "Shirodhara" (60 minute head/neck/shoulders) which is also called the third eye massage (ooooh!).
Mystic Temple website
---
Something Related or a Few Minutes Away
Districts – Prague Red Light District
---