Aromi
---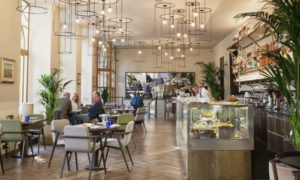 As you walk in the door it must already be on your mind that Aromi has been awarded the Michelin Bib Gourmand award every year since it opened. Also winner of several national and international awards it's been reviewed by hundreds of people since 2005. As it's popular and reservations are almost always required, you'll undoubtedly wait for your table to be prepared and usually that will be at the reconstructed bar (frequent Prague visitors will remember that this used to be the Sahara Cafe). Certainly gets the evening off to a great start. Lots of space in the restaurant and Aromi is now a completely no-smoking restaurant after its move from Manesova.
---
Aromi – The Food
Aromi is the older sister restaurant of La Finestra and follows the same format of Antipasti, Zuppa, La Paste, Secondi and Dessert (although you're not expected to try everything). Beautifully prepared dishes, every one of them a speciality and the presentation is amazing. Some very interesting combinations of tastes going on here. It's primarily built its reputation on being a seafood restaurant but that is not really reflected in the permanent menu. You are much more likely to find seafood in the daily specials. Both seafood and meat dishes are available from each of the main course options.
My Favourite: At the expensive end the fried scallops to start and the slow cooked sirloin as the secondi (with the mashed potatoes and Parmesan). But if you are not so hungry I'd recommend from the "le Paste" section the Parmesan filled ravioli served with veal and mushrooms (maybe with the fried zucchini as a side).
---
Location
Námestí Míru 6
Prague 2, Vinohrady
https://aromi.lacollezione.cz/en/
---
Back to Top Restaurants
Back to Italian Restaurants
Back to All Restaurant Categories
---