Prague Steak Restaurants
---
Jama Steakhouse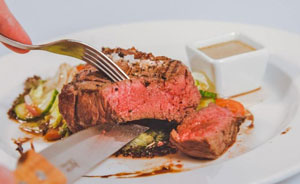 People who come here are officiados of either chicken wings, burgers or steaks. They do some other popular bar food but those three are the core of the menu so they do them very well. The delicious steaks are largely from South American Black Angus (dry aged) with the Hangar steak from the US and Filet Mignon from local Czech stock.
The filet Mignon is available up to 1Kg uncooked weight. You decide how you want it cooked, a sauce and a side etc.
Read more and/or make a reservation at Jama Steakhouse.
---
Kobe (Steak and Sushi)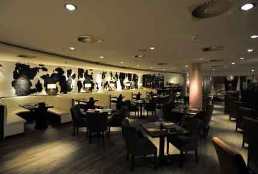 Kobe offers a large selection of organic beef and lamb and beef steak products either cooked on a lava grill or on a hot plate teriyaki style. It is one of a select group of steak restaurants that use the Wagyu breed as a specialist ingredient but offer the more regular tip steak, beef sirloin and Filet Mignon as the bulk of the beef offer whilst other ingredients are sourced from Czech farms. I've never been hungry enough to try it but, the mixed-grill options for two people look stunning when they are presented to the table. Kobe operates with the Sushi-point Japanese restaurant chain so you'll find not only a good sushi selection but you can also combine meals for a "surf'n'turf" extravaganza with Maki, Nigiri, Sashimi and Bento sets.
Read more and/or make a reservation at Kobe.
---
La Casa Argentina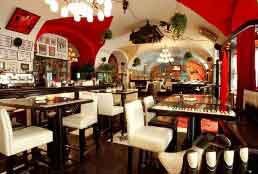 As the name suggests, La Casa Argentina uses expressly Argentine Aberdeen Angus bulls meat. And why wouldn't they as it cooks to perfection and you get the choice of many different cuts. In fact this high quality Prague steak restaurant is frequented by people who know specifically which cut of meat they want. The preparation of the steaks 'a la parrilla' (open grill) reduces the amount of fat dripping from the meat and subsequent burning. Its worth doing a bit of research as the steak choice includes, sirloin, striploin, rumpsteak, chuck roll, flank, rib-eye and mignon. There are some big meals here but they also cater to a lighter diet with their "steak and salad" options which you can expand with additional side dishes etc. Czech beer is available but really this is a place to try their large selection of cocktails. If drinking wine you'll find it a tad expensive here but if pushed, I'd go for the Argentine Malbec Clasico.
Read more and/or make a reservation at the La Casa Argentina.
---
Back to All Restaurant Categories
---
Tour Tips: Here are a few Food Tour options that have been around and established themselves as high quality food activities in Prague.