Kobe
---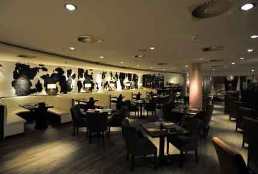 This is Kobe on Wenceslas Square. Enter from the square and you walk a few steps downstairs. The first thing that will hit you will probably be the white booths with cow skin wall decor or else it will be the dark furnishing picked out by ceiling spotlights. All super-modern with very comfortable soft furnished chairs. Kobe is a basement Prague steak restaurant combined with an on-site Sushi-Point restaurant on Wenceslas Square. Stylishly furnished with comfortable chairs. I recommend it for those looking for a Surf'n'Turf option.
---
Kobe – The Food
Kobe offers a large selection of organic beef and lamb and beef steak products either cooked on a lava grill or on a hot plate teriyaki style. It is one of a select group of steak restaurants that use the Wagyu breed as a specialist ingredient but offer the more regular tip steak, beef sirloin and Filet Mignon as the bulk of the beef offer whilst other ingredients are sourced from Czech farms. I've never been hungry enough to try it but, the mixed-grill options for two people look stunning when they are presented to the table. Kobe operates with the Sushi-point Japanese restaurant chain so you'll find not only a good sushi selection but you can also combine meals for a "surf'n'turf extravaganza with Maki, Nigiri, Sashimi and Bento sets.
My Favourite: Yakitori Chicken to start, and Beef Teriyaki as a main course.
---
Location
Wenceslas Square 837/11
Prague 1, New Town
www.koberestaurant.cz
---
Back to Steak Restaurants
Back to All Restaurant Categories
---