La Casa Argentina
---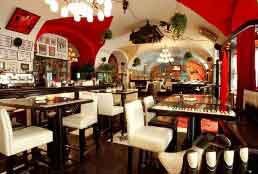 You step into La Casa Argentina from the street and you're not really sure if it's really a restaurant. This is because you have entered the Caminito Salon which contains the main bar at the front of the building with it's grand piano (you'll see the keyboards on the table tops). If you've reserved then you will have already selected your salon and believe me they all have different characters. The ship themed Puerto La Boca, the lush Salon Mendoza, the beachcomber salon Isla and my favourite the outdoor covered Salon Iguazu. Tuck yourself away for a pleasant meal and then retire to the Caminito for music and dancing. Either start your evening here or spend the whole evening if you like the mood and the cocktails. This is my choice for mixing food with entertainment.
---
La Casa Argentina – The Food
As the name suggests, La Casa Argentina uses expressly Argentine Aberdeen Angus bulls meat. And why wouldn't they as it cooks to perfection and you get the choice of many different cuts. In fact this high quality Prague steak restaurant is frequented by people who know specifically which cut of meat they want. The preparation of the steaks 'a la parrilla' (open grill) reduces the amount of fat dripping from the meat and subsequent burning. Its worth doing a bit of research as the steak choice includes, sirloin, striploin, rumpsteak, chuck roll, flank, rib-eye and mignon. There are some big meals here but they also cater to a lighter diet with their "steak and salad" options which you can expand with additional side dishes etc.
My Favourite: Can't decide so here's two. 1) House speciality Lamb Shank with buttered potatoes and a red onion salsa and 2) Striploin (fat crust) cooked medium served with grilled vegetables (chimichurri spice) and a chimichurri salsa on the side. Czech beer is available but really this is a place to try their large selection of cocktails. If drinking wine you'll find it a tad expensive here but if pushed, I'd go for the Argentine Malbec Clasico.
---
Location
Dlouhá 730/35
Prague 1, Old Town
www.lacasaargentina.cz
---
Back to Steak Restaurants
Back to All Restaurant Categories
---