Prague Scenic Restaurants
---
Bricks (Formerly Hergetova Cihelna)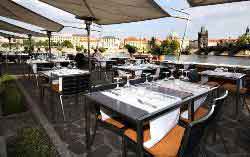 If you are coming from the Old Town across Charles Bridge you'll see Bricks on the far side on the right with the anti-flood wall. Its a large restaurant with more than 300 places of which 170 are outside plus another external called the "boathouse" which has comfortable seating for 50 plus a upstairs lounge/cafe for another 90. Inside is fine with both elegant and more casual areas but its the outside terrace that I direct you to. An absolute must to reserve outside in the summer whether for lunch or dinner. They'll have the space heaters out if its a bit chilly but it's such a great position right on the riverside with spectacular views of the Charles Bridge and the river Vltava.
Read more and/or make a reservation at Bricks.
---
Terasa U Zlate Studne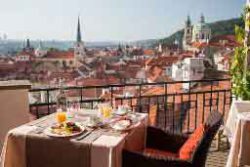 The restaurant is located at the top of a 16th Century building but inside is quite modern and takes advantage of the view with large windows and a large outside terrace used when possible. The decor is bright even allowing for the dark flooring and as a narrow room its quite cozy with space for 26 people (increases to 40 if configured for a group). The large outside terrace seats 40 comfortably. Each will have a wonderful view but tables next to the railings giving an unobstructed city and rooftop views are the most sought after.
Read more and/or make a reservation at Terasa U Zlate Studne.
---
Back to All Restaurant Categories
---
Tour Tips: Here are a few Food Tour options that have been around and established themselves as high quality food activities in Prague.