Your Prague Stag do – Enjoy it Safely
---
The city is a popular destination for groups looking to enjoy a Prague stag do and more recently Hen party groups as well. It's also been known for Rugby and Football clubs to organise group tours as well. It is possible for a group of people to enjoy themselves without getting paralytic. This page seeks to give some pointers on what to expect and how to enjoy the week/weekend.
---
Stag-Friendly Hotels
The following hotels have proven to be Stag-Friendly in the past and have locations in the New Town less than 5 minutes walk from Wenceslas Square or in the Republic Square area close to bars and strip clubs etc. All are big enough to cater to larger groups. All are in the 4 star range.
If you want recommended places a bit further away i.e. 15-20 minute walk or using public transport etc then just Contact Me.
---
Fun Stuff To Do
I work with a local company that offers a variety of fun things to do at various locations in and around the city. Indoor and outdoor activities, simulators, shooting, skydiving, tanks, jets/balloon flights and lots more. Check out the Fun Activities in Prague.
---
Beer Bike
From Spring 2020 Beer Bikes will not be able to run in the central Prague areas i.e. Prague 1. It will be like Segways in that you'll still find Beer Bike options but the tour will be a bit further out. Basically it's a 2-hour multi-person bike exploration of Prague whilst enjoying beers from the keg, bring your own music and enjoy the city. It takes a group of up to 15 but needs at least 6.
---
Pub Crawls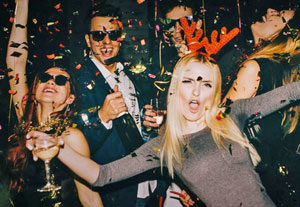 The start-time, duration and route of the crawl may differ but look out for a similar format of starting in one place for an hour or two (to get you in the party mood), then moving to other places where you'll get free entry and a welcome drink but after that you'll buy your own. Finally the end location may be a bar or a club. Along the way meet people, network, get blasted and have a lot of fun. My advice is don't mix absinthe with beer if you want to stay the course. KEEP AN EYE ON THE GUIDE because when he leaves you have to follow otherwise you'll risk dropping out of the crawl. So checkout my following picks:
Tour Tip: These are both fun pub crawls. Personally I lean towards "pub crawl with the 2-hour open bar" because this is the original Drunken Monkey crawl and it's definitely going to be at least 4 hours and not the 1.5 hours shown.
Drunken Monkey tour is 6 hours and includes 2 hours at their bar followed by a trip around 4 or 5 bars and finishing at a club. You get a free t-shirt as well. Check the Drunken Monkey Pub Crawl.
The International pub crawl is offered by Discover Prague but it's operated by Party Provider. It's a 6 hour tour visiting 3 bars and the first has a 1 hour open bar. The end of the evening is a VIP Pass entry into Karlovy Lazne, Prague's largest multi-floor nightclub. Check the International Party Pub Crawl.
Here's a little Craft Beer tour which includes beer cheese snacks. A total of 7 beers to be tried during the evening. I've also heard this called the Craft Beer Tasting Pub Crawl (options for shared tour and private).
---
Attitude to a Stag Party or large groups of men
A few years ago after suffering a Summer of clearing up pewk and broken glass (the last straw for one owner was when a stag party group of 20 guys went into Caffreys Irish Bar on the Old Town Square, ordered a beer each and after saying cheers they each tipped the beer over their heads), several places decided to put a ban on Prague stag party members entering their bars. The ban lasted one year and then it was back to normal business with "Stag party" people allowed in again. Such is the power of cash. In fact, my advice for large groups of men coming to Prague is to mark the positions of the Irish bars on the map and stick to them. Smaller Czech bars will leave you standing at the bar as the staff make it clear there is no beer to be had. Clubs will try and maintain a balance of men/women in the club. In my experience, unless you are blind drunk or abusive then you should get in but, the trick is to arrive early or bring members of the opposite sex in with you.
---
Running Tabs
If you intend spending a lot of time in one place (as a Prague stag party may well do) then consider running a tab. Normal rules apply i.e. if you order food then you can have a tab (credit) where you can order more drinks and pay later. The only issue here are that if waiters/waitresses are changing shift then you have to settle that part of the tab or finish it completely. Secondly, the more the bill goes up the more the chance or unofficial "service" charges being included. Twenty guys on a Prague stag drinking 4 different kinds of beer gets tough to track. The Irish/English bars are all used to running tabs for stag groups and taking a credit card payment from one person. Nobody accepts cheques here.
---
Specifically for Hen Parties
Large groups of women can go anywhere so that's that part sorted out. General places to go are mentioned later on this page . There are also many Cocktail bars in Prague where you don't get Prague Stag parties very often. Bugsys and Aloha are only a couple to mention. Do an internet search for "Cocktail Prague" to get a reasonably full list or take a look at my recommended bars for some suggestions.
---
Prague Strip Clubs
More and more of the Prague strip clubs are now offering private rooms so I've written a guide to the Prague Red Light District and generally tips for buying sex. Officially the rooms are for private strip shows. What the show is I leave up to you. Ve Smeckach (off Wenceslas Square) has the highest concentration of Strip Clubs (Darling and Atlas are here). There are others on Wenceslas Square itself. Most famous and most expensive is Goldfingers located under the Ambassador Hotel www.goldfingers.cz. Next to the Duplex entry (Corner of Jindrisska) is Hot Peppers www.hotpeppers.cz. The Prague stag warning with using any of these "Wenceslas" strip clubs is the drinking. If you offer to buy a working girl a drink then you'd better have plenty of cash on you and under no circumstances hand over a credit card.
---
Drugs
If you were wondering if cannabis is illegal in Prague then yes it is illegal to grow, sell or be in possession. The Prague Cannabis and CBD post has the rules, regulations and some suggestions of how to safely buy it here.
---
Night Clubs
You'll find good descriptions of the Prague nightclubs and venues I know at the Nightlife page which also contains a "talk-through" on how to use a local website to search for exactly the type of club and music that you like. The two main nightclubs for tourists and Prague stag groups wanting mainstream music are next to the Charles Bridge called Lavka and Karlovy Lazne.
---
Places to go to get rat-arsed
On the side roads off Wenceslas Square on the right as you go up you'll find Rocky O'Reillys in Stepanska. In Ve Smeckach you'll find the strip clubs and three of the sport bars. Around the Old Town Square you'll have Caffreys Irish Bar. A short walk away from the Old Town Square you have James Joyce Bar in Kozi and The Dubliner (in the Tyn courtyard). Follow Me and Harleys Bar are in Dlouha. Joes Bar in Malostranska will let a group of up to 10 get in OK as will U Maleho Glena in Karmelitska. Around the corner in Trziste is JJ Murphys Irish Bar which sometimes uses it's function room for a large Prague stag party.
---
Places to go to enjoy a drink
As well as the places above, from the Old Town Square, take a walk down Parizska and try somewhere like Bugsy's. On the way out of the square in the direction of James Joyce, try the basement bar called Kozicka (www.kozicka.com) or walk along Dlouha. Take a look for the Celnice Group (Kolkovna, Olympia and Celnice) bar/restaurants.
---
Prague Stag Crowd Control
If something gets out of hand at your Prague stag party (does that happen??) then don't expect the Police to be called in early. The bars and strip clubs on Wenceslas Square and the Irish bars in general are all in contact and you'll find a number of "local heavies" can be assembled at short notice. The police will be called for insurance reasons and recording of damage etc.
---
Personal Safety on your Stag
The trick here is to stay as a group. You'll have no problems inside bars and clubs so long as you keep your wallets/purses and mobiles in your pockets. Outside is a different matter. Czech TV regularly shows video footage of Prague stag "loners" on Wenceslas Square being relieved of their wallets by street women.
---
A Very Sad Tale
Karl Law came to Prague to celebrate a stag night with his mates in November 2014. Enjoyed some drinks and maybe had some puff like many others. But unlike many others he left his mates and unfortunately was pulled dead from the river almost a month later. I wouldn't wish it on anyone but if any good can come from it I hope people will read this and take heed. Enjoy your drinks, enjoy your puff, but stay together and you'll all be fine.
---