The Linden Tree, Slavic Icon
---
About 4 months after arriving in Prague I was having a conversation with a local guy and I asked what was the national flower of the country. He replied that they did not have a national flower but they did have a national tree, the Lípa (pronounced like leepa) or what we know as a Linden tree. Of course when I pressed for more information the reply was "it's always been like that".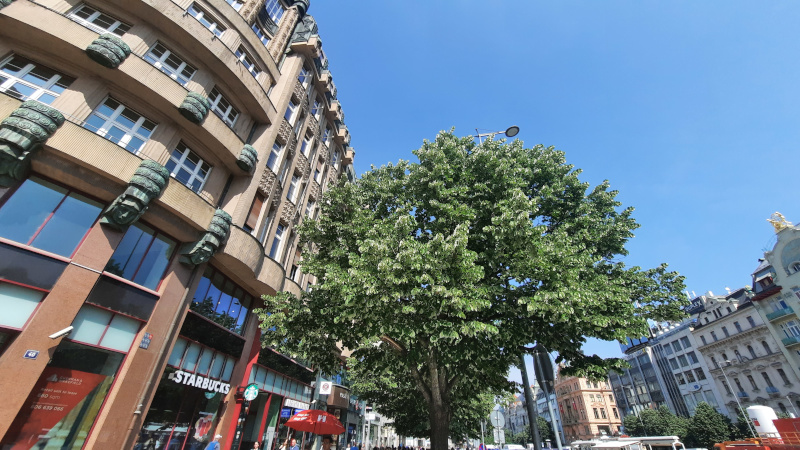 I knew the Linden tree from being in England where we also call it the Lime tree. Americans call it Basswood. So from the autumn of 1996 I began to be sensitized to Linden trees and leaves because they are all around you in Prague. For any botanists out there, of the 40 or so types of Linden you'll find that only 2 are native to this country, the large light-green leaved linden (Tilia platyphyllos) and small dark-leaved linden (Tilia cordata).
Officially the Linden Tree was adopted as the National Tree of several Slavic nations at the All-Slavic Congress of 1848 held on what is now called Slavonic Island in Prague. It was chosen firstly because it gave the Slavs their own identity and secondly it separated them from the Germanic Oak. So it was a popular choice but why?
---
Pagan Values
Never let it be said the Slavs are not superstitious people. The Linden tree has always been associated with righteous spirits and protection. Families would hang religious pictures and icons in them and it's a reason why you see them growing close to houses as people believed that they could not be struck by lightning (not true). They can take tremendous damage and still survive to hundreds of years old and if cared for a 1000 year-old tree would not have been uncommon.
---
Practical Uses for the Linden Tree
Initially it would have been people working with wood that used the Linden. Being a soft wood with little grain it was easy to work into wooden implements, musical instruments and art. A baby might rock in a cradle made from Linden and an old man might be buried in a coffin made from Linden so we can say that it surrounded the life of a Czech person. Wood workers who lived close to forests would keep bees and it was soon discovered that honey made from Linden flowers was highly sought after for it's unique taste. Later the tree would be used for its shading properties hence why many Prague streets are lined with Linden trees. After the Thirty Years War the Linden tree was popular in royal gardens for it's shade, scent and autumn colour. The Linden flower (not all types though) has medicinal purposes for healing various ailments from internal organ issues by using it to make tea to direct application for skin problems (Linden has similar properties to Calamine). The sap from the flower could also be used as a perfume.
---
Linden is All Around Us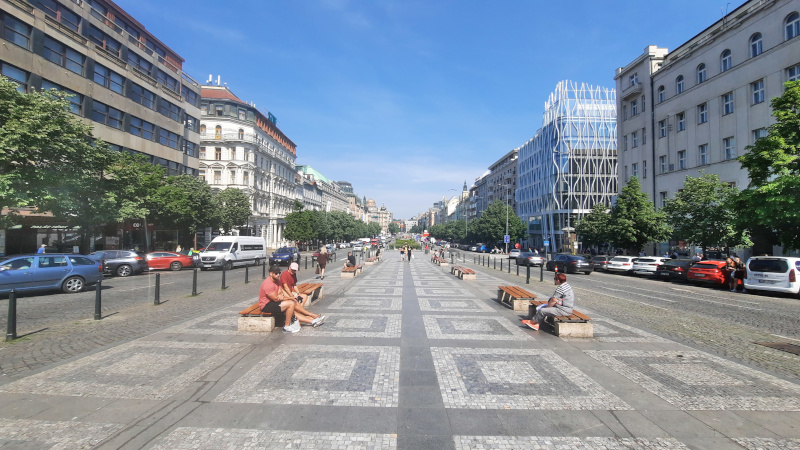 If you are visiting Wenceslas Square then you'll find Linden Trees lining the boulevard. Likewise, Paris street is lined with Linden trees, also Na Prikope, Vinohradska, Narodni, the riverside etc etc. In fact, just about any road or junction in the city with trees growing are likely to be a Linden.
Linden symbolism is all around you in Prague. In building decoration from the turn of the last century i.e. @1900 look carefully and you'll see Linden leaves not just as decoration but as symbols of Czech nationalism seeking separation from the Austro-Hungarian Empire.
Many state symbols including the Presidential Standard have Linden leaves and military uniforms/medals will have them. For example the old Czechoslovak Military Cross has a Linden leaf cluster if awarded to the same person more than once for bravery and valour in defence of the liberation of the country.

For a religious aspect go into any church and it's likely that any wooden statues of saints or a wooden altar are made from Linden. Some of the most famous Nativity scenes in the country are made from Linden. In Pagan mythology the Linden tree was dedicated to the Goddess of love.
In art if you are a fan of the Slav Epic then the Linden tree and leaves are visible on many of those paintings that depict Slavic history. As mentioned above, the use of the Linden leaf in decoration was seen as a very nationalist icon even before the first world war.
---
How to Spot a Linden Tree
In order of season, if the ground you are walking on feels sticky then you are likely under a Linden tree. If seeds are blowing in the wind like snow then you are near Linden trees and if the ground is covered by thousands of perfectly shaped yellow leaves then again, you are walking under Linden trees.
---
Anniversaries
Many thousands of Linden trees were planted in 1919 to celebrate the creation of the Czechoslovak Republic the previous year. On the 25th, 50th and Centenary anniversaries there were many more planted. In fact if you have a local historic event then that's an excuse to plant a Linden Tree.
---
Some Random Things to See and Do in Prague