Prague Flag
---
People who come to Prague often wonder why there are so many Spanish flags in the city. However, if they had looked closer they would have seen that the Spanish flag is Red-Yellow-Red and the one you see throughout Prague is Yellow over Red. So where does it come from and who can use it?
---
The Origins of the Prague Flag

It's Prague so of course the Prague flag must go back half a millenia and you'd be correct in thinking that. Remember that coloured flags in European countries are often taken from medieval coats of arms. On the Prague Coat of Arms post I showed you how that has changed over the years and the significant date as far as the Prague flag is concerned was 1462.
Up until that point the Prague Old Town coat of arms had been silver towers on a red background but the Austrian Emperor of the time seems to have wanted to upgrade the colour so from 1462 the Prague Old Town Coat of Arms and hence the flag became Gold over Red but in today's representation it looks more like Yellow over Red.
---
Who Can Use The Prague Flag?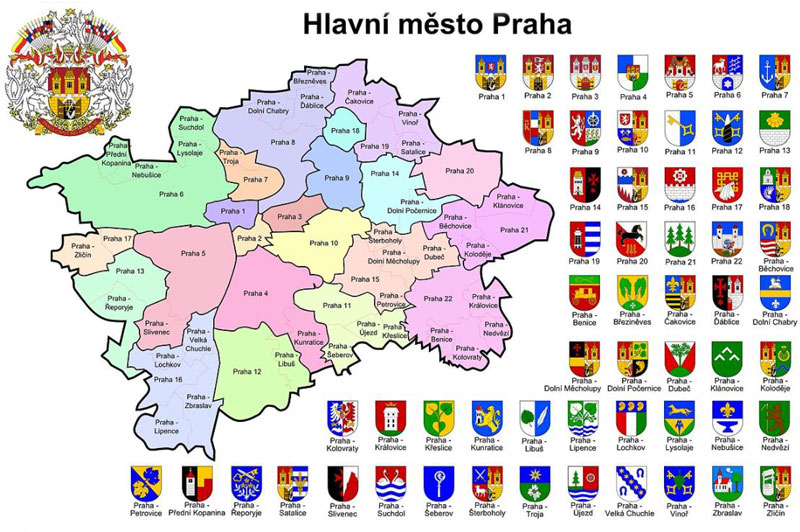 The Gold over Red Prague flag can be used by any of the Prague districts within what we call the Hlavní Město (central Prague) area. That's any of the districts pictured so often it's called the Municipal flag. In fact the town halls go a bit mad and it's not unusual to find several flags flying including the National flag, Prague flag, Bohemian flag, Prague Coat of Arms, District Coat of Arms, District flag and of course the EU flag.
---
Polish and Croatian Flags?
It's an easy mistake to make, a simple White over Red design and the majority of people would wonder why they see many Polish flags in the city. Quite simply, it is also the Bohemian regional flag and as Prague was historically the capital of Bohemia that's why you'll often see this flag.
Again, go to any major football championship and chances are good that you'll find the Croatian red/white chequered flag. You do see them in Prague but historically it was linked to the regional flag of Moravia. This motif still appears on the National coat of arms but since the mid 19th Century, Moravia has used the popular Gold over Red and sometimes even a Red over Gold design.
---
You Also Might Like to Read
1621 Memorial on the Old Town Square
---