The Story of Jan Palach – Always Remembered
---
Every January 16th thoughts will turn to an event which happened on this day in 1969. The story must begin in the January of 1968 with the election of Alexander Dubcek (pronounced "doobcheck") as Communist Party leader. He was a reformer who set about introducing reforms and measures that would loosen the grip of Communism and make Czechoslovakia a more Socialist state.
---
The August Prague Spring was a direct result of that seven month period of reform. The Soviet leadership refused to allow this reform to take place and instead orchestrated a military intervention which although the Czechs fought hard and many were killed, they could not prevent their dream being crushed.
Enter Jan Palach. A 20 year old student of Politics, History and Philosophy studying at Charles University in Prague. He had seen the hope of Dubcek's promise of a better life and it must have been hard when this hope was crushed. He and others like him were sure to protest but about what? In the case of Jan Palach it was not to protest the Soviet invasion, it was to protest the effect on the Czech population that had become despondent and demoralised to the point where "acceptance of the new order" and "apathy" in respect to the choice of not protesting were widespread.
Jan Palach then decides to do something which eventually will turn him into a national icon. Having walked to the top of Wenceslas Square and standing directly in front of the National Museum, he poured petrol over his clothes and set himself on fire. The memorial cross below marks the spot.
---
After being taken to hospital he was looked after by Dr Jaroslava Moserova (she ran for the post of Czech President in 2005) and she listened to his reasoning until Jan Palach died on January 19th 1969.
---
The Legacy of Jan Palach
Initially the people were appalled at the act and many questions were asked about his motive but over time his sacrifice became honoured and a generation grew up protesting each year at this time. Of course each protest was met with violent suppression by the authorities which succeeded into encouraging more protest. This continued up to 1989 when the protest of that year, the first major protest in the calendar drew more protesters than ever and was one of the catalysts of the eventual Velvet Revolution.
---
Where is he Honoured?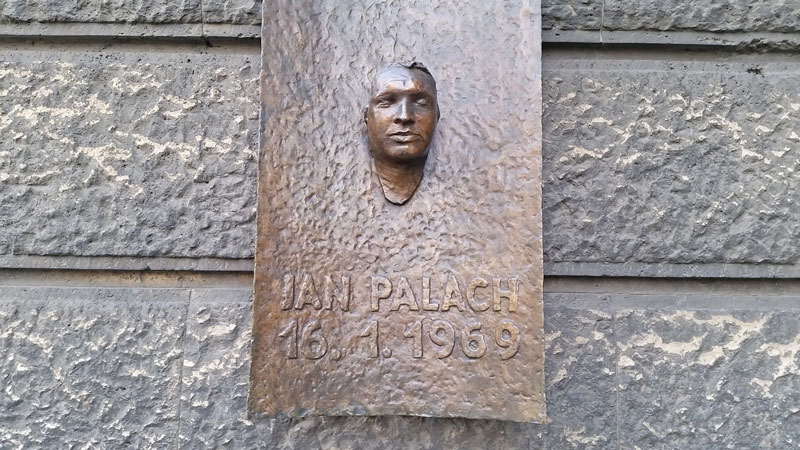 Jan Palach is honoured worldwide with squares, streets and music named after him. In Prague, a death-mask plaque on the wall of the University Faculty where he studied, a burned cross in front of the National Museum and finally a photo-plaque (pictured top of page) on Wenceslas Square 30 metres down in front of the horse at the top of the square. This also commemorates Jan Zajic who did the same a little under a month after the death of Jan Palach.
---
Something Related or a Few Minutes Away
Memorial – House of the Suicide Mother
History/Communism – Story of a Photograph
---