Lokal – where you can also Buy a Meal for the Homeless
---
I've been going to the different Lokal pubs for years. If you are in the Lesser Town and you are heading to Lokal Bile Kuzelky then it's got a great basement area. I spend most of my time at the Dlouha location in the Old Town. For those of you who know Prague from a long time ago this was the location of the Dahab restaurant. It serves classic Czech food and beer in a long hall part of which is configured as a proper restaurant but the front entry from Dlouha is more of a pub just for drinking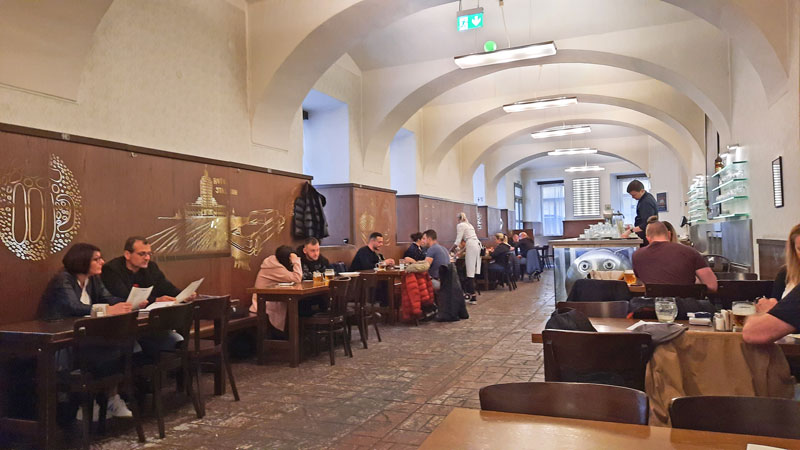 ---
Tip: When it gets Busy
At peak times like between 12pm and 2pm it's wise to get a reservation here which you can do online. But if you don't have a reservation and there are no free tables then wander over to the bar area pictured above and they have a clipboard. Put your name, number of people and what time you want to eat and one of two things will happen. Either a whole table becomes free and if you are next in line then you get that table or the other option is that they ask people at a larger table if they are happy to share. When I've done this before I reckon I have had to wait no more than 10 minutes for a table.
---
Buying a Meal for the Homeless
I described in the Novy Prostor post how you can buy a meal for the homeless but I thought it was worth raising it's profile because many people don't realise how easy it can be to help the homeless with a single simple act.
While you are enjoying your food you can also buy a meal for a homeless person.
---
How does it work?
You'll read many reviews of Lokal in Prague with phrases like "great Czech food", "professional service" and you'll find several branches of the "Lokal" restaurant chain in central Prague but not many people see one of the things on the menu or understand what it means. In Czech its "Obed pro dalšího" (pictured). In English it translates as "lunch for the next" and you'll find it at the bottom of the menu on the wall.
Regardless of whether you are here for lunch or dinner, you add this menu item to your bill (at the time of writing it was CZK90) and it gets translated into a meal voucher for a Novy Prostor reseller or otherwise homeless person. They can then get a hot lunch and a drink.
The graphic above is from the Lokal restaurant in Dlouha but all of their restaurants in Prague offer this option. At lunchtime it's at the bottom of the board. At dinner it's the only item on the board. If you want to find the locations of the chain then check the Lokal webpage. Or if you are prepared to use Google Translate then more info about the Homeless meal is at https://www.jidloaradost.ambi.cz/clanky/obed-pro-dalsiho/.
Enjoy your food and feel good at the same time.
---