Book Review – Prague's Stolpersteine Stumbling Stones Defiant in Their Memory 2008-2021
---
On March 24th 2019 an email arrived into my inbox with a single word in the title – Stolpersteine. The purpose of that email was to engage with people who had written about Stolpersteine (I'd called them Prague Stumble Stones) and suggest linking to a couple of sites with interesting related content. That was the beginning of my friendship with fellow Brit Trevor Sage and ultimately a shared interest.
---
Raising the Game
Do a Google search for "Trevor Sage Prague" and it won't be long before you learn about an event which changed his life. I won't spoil the Author's Note in the book but he'd told me that any online record of the Prague Stolpersteine was lost when a single domain called stolpersteinecz went offline. There was no other way to document them other than to walk the streets looking for the stones. Trevor became interested in first recording the locations of the stones, then cleaning them and finally to be included in the process of installing them.
---
An Idea Forms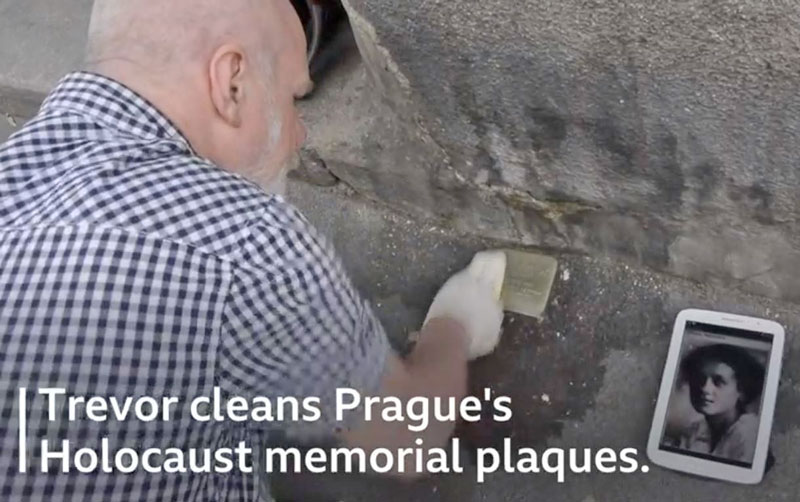 The photo above was taken from an Interview with Trevor Sage shown on the BBC https://www.bbc.co.uk/programmes/p0766235 which gives an insight into the early days of cleaning which eventually leads to the book. By the following year Trevor had amassed a large amount of locational data and photographs of the Prague Stolpersteine. The idea first emerged about the possibility of expanding the detail even more and putting all this information into a book. This ballooned into a requirement to understand details of each person to be mentioned in the book like dates of birth, addresses both in Czech and their associated German names in WW2. It required matching people with Nazi Transports from Prague to various ghetto locations and onward transports to work camps and death camps. It required amassing knowledge of dates/causes of death, relationships between people, personal photographs, stories of those killed in connection to the Holocaust and for other reasons and a minority that were liberated along with experiences from surviving relatives. This was no small task when Trevor began his work collating a wealth of data spread out over many sources.
---
Funding Issues
I saw my first draft copy of the book on May 10th 2021. Even in July 2021, meeting Trevor for a socially-distanced coffee in the Vinohrady district it was still not certain how it would be possible to fund the project but with the help of the Prague 2 district, organisations and individuals supporting a crowd-funding campaign it was clear that by the Autumn of 2021 that this would go ahead in printed form.
---
Prague Stumble Stones – Defiant in Their Memory 2008-2021
In a limited way I've described some of Prague's stumble stones on my Walking Tours for years but nobody had brought all the different elements together in one place, until now.
I got an invite to attend the official book launch on November 24th 2021 hosted by the British Ambassador Nick Carter and his wife at the British Embassy. An eclectic mix of thirty or so people listened to Trevor describe his inspiration for the book and coincidentally November 24th marked the 80th anniversary of the first transport of people from Prague to the Terezin ghetto.
This is a hefty 300 page work in English and in glossy A4 weighing in at over a kilogram. At the back of the book is an index both of the names on the Stolpersteine and also any related URL link that provides additional data about individuals.
If you begin at the start of the book then after a foreword by Rabbi David Maxa you'll have an interesting Authors Note followed by an Introduction to Prague Stolpersteine and how the process works.
From there you begin a journey through Prague's Stolpersteine ordered by street name. Although each page content will vary you'll soon learn personal details about many of the individuals, what they looked like from ID cards and in family pictures, buildings where they lived if still standing, how and why they became memorialised, the routes that they eventually took mostly to their deaths and if there are any specific historical facts relating to them. Ominously you can't help but read the detail of the train transports, the number of people, their demographics and known survivors if any.
A tourist will appreciate the historical narrative of the book, understanding the reasoning and processes that the project uses plus they will realise what can happen when moral conscience is discarded. I think it's even more poignant for a resident of the city who can relate to real people living in these buildings and begin to understand how they were treated. The reader is left with a sense of loss and a feeling of disbelief that humans could do this to each other. The horror is there without needing to be written.
The Ethos of the Stolpersteine project is summed up on the first page of the book with the phrase "A person is only forgotten when one no longer remembers their name". Ultimately the book will become a historic record and will ensure that as of November 2021, at least 460 people will continue to be remembered in Prague.
---
Where Can You Buy It?
The Book ISBN is 978-80-11-00522-1 and all profits from sales go towards the Stolpersteine project.
The publisher of the book is Oko! Multimedia which sells the book from their Bistro/Cafe next to the Riegrovy Sady park. Price @CZK350. https://www.facebook.com/OkoBistro/
The Oxford Bookshop sells the book from various shops around the country. Price @CZK450. In Prague their shop is at Korunni 65 in the 2nd district. https://www.megabooks.cz/p/18863636/pragues-stolpersteine
The Charles University Bookshop at Celetná 18 in the Old Town also sells it. Price @CZK550.
---