Charles Bridge Portrait Artists
---
There are some seriously talented artists in Prague and several of them can be found on Charles Bridge during the year. The signage on their easels should make it clear what the pricing will be and material options etc. It also makes it easy to point at what you want. But if you are looking at a portrait and trying to work out if it's Bruce Willis or Robert Redford, you'll need to try another artist.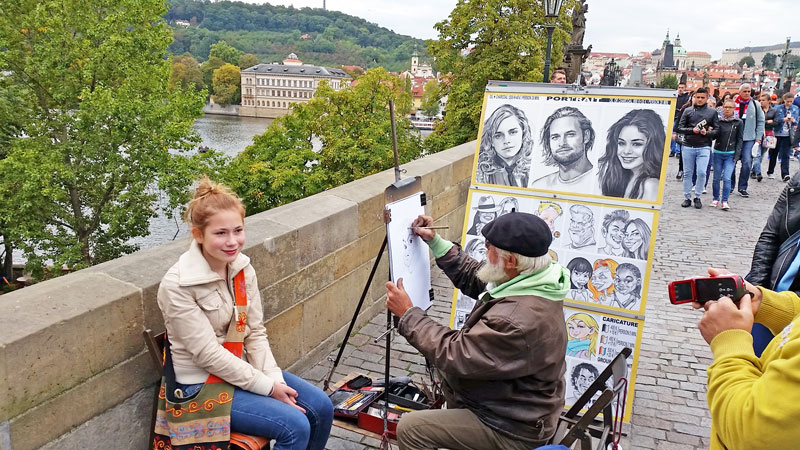 If you are hiring the services of one of the Charles Bridge portrait artists as part of your trip then let me give you three tips straight away. 1) Bring a photo (head detail) with you. 2) Walk across the bridge and back at least twice before you make your artist choice. 3) Expect to visit a post office to buy a cardboard tube (for transporting it home or for sending it home by post).
---
Charles Bridge Portrait Artists – The Caricature
By far the caricature is the biggest money earner because they'll be charging from CZK400 (@15 Euros) for 5 minutes work. I warn you now to check some of the previous work so you can see the details that he may pick out because it could be an item of clothing or part of your body. Remember that it's not what you see, it's what the artist sees. It's generally good fun especially for the people watching it being done (not so much for the sitter because they can't see it yet). It's fun for couples because the artist will do one at a time on the same paper. You just choose if you want simple black and white or with a bit of colour. Budget no more than CZK500 per person being drawn.
---
Charles Bridge Portrait Artists – The Portrait
Spend some time looking and you'll soon see that the Charles Bridge portrait artists each have their own style. Don't just trust a picture pinned to the board, watch the artist do a couple of portraits first to check the quality. Then it's a question of time and pricing. Proper portraits take between 20 and 30 minutes.
If you really want his work but time is an issue either for you or the artist then this is where you use the photo. You'll need to agree materials like oil/charcoal etc, I mention this because although it's more expensive, a portrait with oil AND charcoal seems to be more vibrant. Expect to pay up front, he'll do your portrait at home and you collect the following day from his stall on Charles Bridge. Budget no more than CZK1200 (@50 Euros) per person being painted.
---
Something Related or a Few Minutes Away
Attraction – The Iconic Charles Bridge
Activities – Karel Zeman Museum
Activities – Kampa Modern Art Museum
Memorials – Jan Nepomuk Statue
Memorials – Holy Crucifix and Calvary
Films and Videos – Mission Impossible 1996
---