A Story of the Prague Jewish Memorial Plaques
---
NOTE: The story of the plaques is accurate but for a more detailed story of the overall European project check the Stumble Stones post.
Anybody that has spent a weekend in Prague will have walked within arms reach of one of the Prague Jewish Memorial plaques embedded in the pavements of outside many houses and apartments in the centre but may well not have seen them. I show people some of these plaques and explain their story on my Prague Walking Tours.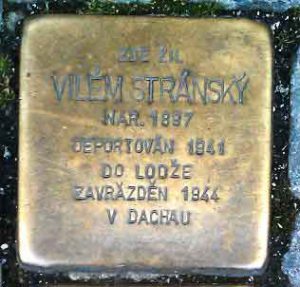 Very simply they give the name and born year of the person, the date and location to where that person was deported and finally the year and location of death. But let's be specific. The plaque says "Zavrazden" which in Czech means "murdered".
All three of these plaques are outside the Hotel Jasmin (now called Grandium) and there are several other examples of Prague Jewish Memorial plaques in the street. This one is for "Vilem Stransky".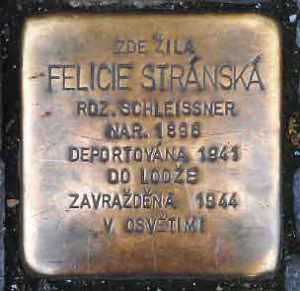 But let us expand the story a little further because the next picture shows that his wife Felicie Stranska was also deported in the same year and probably at the same time to Lodz but that she met her end in a different location. Note the part of the plaque that says "Roz. Schleissner" where Schleissner was her maiden name. To have found this information, Nazi death camp records would had to have been cross checked with local Jewish family records.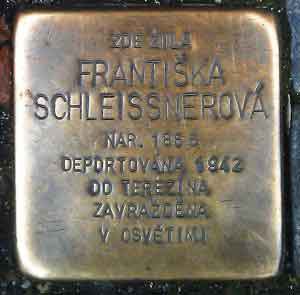 And finally, note the birth date of Frantiska Schleissnerova is 1868. Four things to note here. 1) that she was undoubtedly the mother of Felicie, 2) that she was murdered at the same place as her daughter. 3) they don't know exactly when she died but that she was deported via Terezin (many older Jews were) and 4) look at the date of deportation. It's 1942, after previous taking her daughter and son-in-law, they came back for her the following year.
So a quick look at just three of the hundreds of Prague Jewish Memorial plaques in the city and I hope that it gives just a small insight into the city and its history. Like I said at the beginning, read the full story of the project on the Stumble Stones page.
So as we say in Prague, look out, but also look up and look down or you'll miss a story.
---
My Own Guided Tours – Cheaper Than You Think!