Noi
---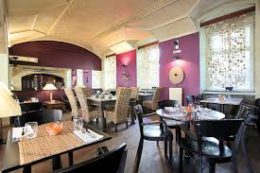 Restaurant Noi is a little off the regular tourist track so expect to be eating with locals at lunchtime and it's popular with expats for local business lunches. Beware that after 8pm it gets trendy as they will often have a DJ on-site and even though I generally like the music, it's hit or miss on the night. The Wicker seating is comfortable but a table for two will struggle to hold a selection of sides.
---
The Food
Don't get this mixed up with what they call "Asian" food. Noi has 100% HOT Thai with gorgeous salads available and if fried glass noodles and shrimps gets you going then this is the place for you. Some may find Thai soups like Tom Yam are too spicy so they have other soups that are just as tasty but, without the heat. First timers should at least try the mixed starter.
My Favourites: Tom Kah Koong (shrimp/coconut milk soup – not spicy) and Yam Woon Sen (glass noodles shrimp and pork mix).
---
Location
Újezd 409/19
Prague 5
www.noirestaurant.cz
---
Back to Thai Restaurants
Back to All Restaurant Categories
---
Tour Tips: Here are a few Food Tour options that have been around and established themselves as high quality food activities in Prague.