Indian Jewel
---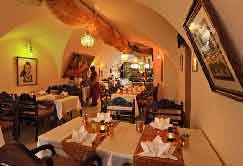 Indian Jewel is a good sized restaurant in a great location. They've not gone overboard with Indian decor. Tastefully decorated and a nice amount of room as all tables have a wall on one side due to the barrel-vaulted nature of the architecture. Pleasant at any time of the day or evening you only have to raise your hand for somebody to come over and take your request and they'll check a couple of times during the meal that all is ok. It's not the biggest but it has been the most consistent of the Indian restaurants in Prague and in summer they have seating in the historic Tyn courtyard.
---
Indian Jewel – The Food
It's an Indian restaurant so you'll already know about 70% of the menu. At Indian Jewel the difference in the main courses is the degree of spice. Generally a masala is quite mild but here they have "pepper masala" options with a kick. Nice starter menu including a shrimp salad and soup which is not popular in a British style Indian. Nice selection of Tandoor specialities, mostly skewered kebabs, but there's also a fish fillet option and prawns. For vegetarians there's a defined list of meals but also look in the "side dish" section to expand your choice.
My Favourite: In the Tandoor section, the Hara Bhara Kebab (minced chicken and spinach, lightly spiced) and in the Curried specialities the lamb Pasanda. In the side dishes, try a Channa Masala (chick peas in Curry sauce, like a dal but a bit more body).
---
Location
Týn 642/6
Prague 1, Old Town
www.indianjewel.cz/
---
Back to Indian Restaurants
Back to All Restaurant Categories
---