---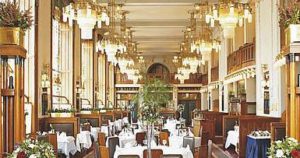 The Municipal House kindly offers us two options for classic Czech food. The first is the Municipal House Kavarna and the second is the Municipal House Restaurant. A major reconstruction in the 1990s has returned it to its original standard including original Art Nouveau fittings and restored wall designs. Even though it's a fairly long floor its well broken up with alcoved seating on both sides and centrally located tables leaving two corridors to get in and out. Beautiful place for a meal. At weekends the end of the room doubles as a stage for live jazz and you'll find live piano in the evenings.
---
Municipal House – The Food
Even if I had told you that this used to be a French restaurant you may have worked it out for yourself because it is Czech food it is served in a recognisable French Style. This is hardly surprising given that the management and bulk of the staff were retained from the original restaurant. Although the Fois Gras is the only dish from the original menu, take a look at the sauces and you'll see why the Municipal House has gained a reputation for it's modern menu.
My Favourite: Ravioli stuffed with Tandoori prawns with white truffle oil to start and the grilled beef tenderloin as a main course (with potato confit, olive oil and a black truffle sauce).
---
Location
Námestí Republiky 1090/5
Prague 1, Old Town
Municipal House Restaurant
---
Back to All Restaurant Categories
---