Francouzska has now closed permanently. What used to be the Francouzska Restaurant is now called the Municipal House Restaurant and details on their website http://www.obecnidum.cz/en/shop/municipal-house-restaurant/.
---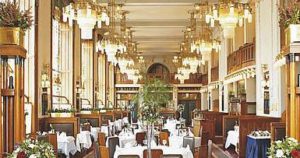 Whereas you can look into the windows of the Kavarna (cafe), the French restaurant Francouzska is much more private. Once inside you return to 1912 with modern service. A major reconstruction in the 1990s has returned it to its original standard including original Art Nouveau fittings and restored wall designs. Even though it's a fairly long floor its well broken up with alcoved seating on both sides and centrally located tables leaving two corridors to get in and out. Beautiful place for a meal. At weekends the end of the room doubles as a stage for live jazz and you'll find live piano in the evenings.
---
Francouzska – The Food
If you want the best selection of French style food then come here for the Francouzska Sunday Brunch as it's usually a collection of French regional cuisine. It's only on the first Sunday in the month. There is a Chefs degustation menu which is very nice but, doesn't really cry out that it's French. You'd be better off choosing a nice starter and main course from the a la carte menu like the fried scallops or the "Coq au Vin" etc. They also do nice sauces so basically you get a meal like the cod but with Bouillabaise sauce or beef tenderloin with a black truffle sauce. Grilled duck Fois Gras is a speciality of Francouzska.
My Favourite: Ravioli stuffed with Tandoori prawns with white truffle oil to start and the grilled beef tenderloin as a main course (with potato confit, olive oil and a black truffle sauce).
---
Location
Námestí Republiky 1090/5
Prague 1, Old Town
www.francouzskarestaurace.cz/en/
---
Back to French Restaurants
Back to All Restaurant Categories
---