A Look at the Saint Vitus Cathedral
---
Saint Vitus Cathedral was not the first church in the area, that was the Church of Our Virgin Mary. Neither was it the first church at the Prague Castle, that was the current Saint George Basilica. But you have to admire the way that it has developed over the centuries into the dominant building in the city and as such has collected an enormous amount of history along the way. The most famous person buried here is of course SV Vaclav or Saint Wenceslas (you would know him as "Good King Wenceslas"). The most popular attraction within the Cathedral is usually the Crown Chamber which holds the Bohemian Coronation Jewels.
---
Actually it's not called Saint Vitus Cathedral anymore as since 1997 it's been the Cathedral of Saints Vitus, Adalbert and Wenceslas. Life for this place started back in the year 923 when Prince Wenceslas acquired an arm of Saint Vitus from the Emperor of that time (Otto) and the original Romanesque Saint Vitus rotunda was consecrated to him. Twice more over the years as the importance of Prague increased and was elevated to first Bishopric in 973 and then Archbishopric in 1344 that the current Saint Vitus Cathedral has grown.
As you enter the 3rd Courtyard right in front of the towering west wing you'll be forgiven for thinking that this has always been the front door for a long time but this part of the Cathedral was only completed in 1880 after funds were raised by the "Union for the Completion of Saint Vitus Cathedral". In fact for more than 500 years of it's history, the front of the Saint Vitus Cathedral and ceremonial entry was actually on the long south side via the Golden Gate. Remember that it's FREE to go into the Cathedral for a look but if you want to explore you need the entry ticket.
---
On the south side of Saint Vitus Cathedral it is possible to climb to the top of the Great South Tower which stands just 40cm less than 100 metres above the ground. The tower contains the largest bell in the country called Zikmund. At more than 2 metres tall and weighing in at 15 tons it takes a team of 6 to even ring it. In June 2002 during the celebration of the feast of Saint Vitus the bell clapper cracked, a bad omen. Sure enough, two months later Prague suffered it's worst flooding for more than a Century.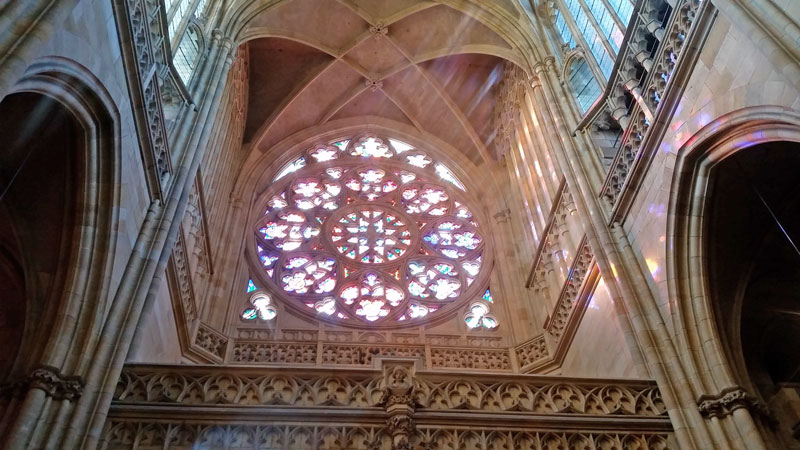 For people who like Gothic, Neo-Gothic and Renaissance architecture it's an absolute must-see and if you are not versed in architectural design then just take in the splendour of the place and understand that you are standing in more than a thousand years of history.
Prague Castle public areas are covered on my Prague City Walking Tour or take a look at Options for Exploring Prague Castle.
---