Black Light Mini Golf
---
It was during the 2019 summer and I'd just done a walking tour for a family with young kids. It was hot, I mean snakes ass in a wagon rut kind of hot and the family was looking for ideas mainly to stay cool but also to enjoy themselves so this was a place I suggested. It could have been really cold or really wet. You get the idea, I think of this place as somewhere to visit for fun if the weather is against you.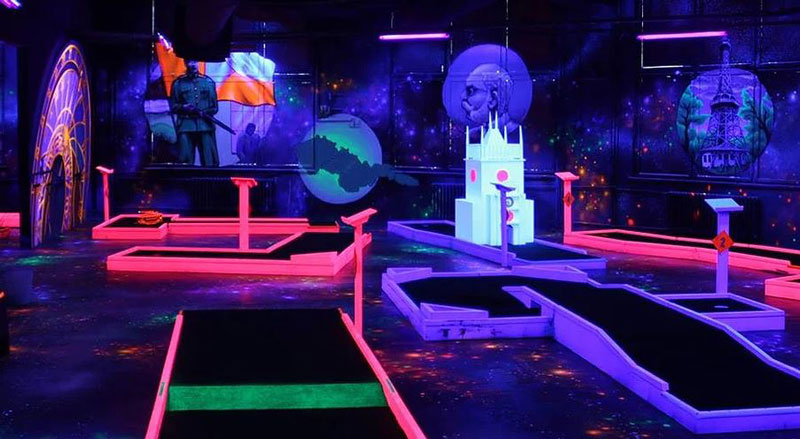 What is Black Light?
You can see from the picture above what to expect. It will be a darkened area but the course itself is painted with phosphorescent material so when you use Ultraviolet light it really shows up in the dark. It's also fun if you are wearing white or reflective clothing. If you like the effect then also check the Black Light Theatre post for places to visit.
---
The 10 Quid Test
This place passes my £10 test in that an adult can enjoy at least an hour of entertainment so in this case you get a game of mini golf, have a couple of drinks and still have change for playing pinball. The fact that the whole place is Black Light (where they use UV Light) just adds to the game.
---
What's Included

As well as a mini-golf course which should take you around an hour to complete if you are playing a pair or longer as a family, there are other pay-to-play arcade games and pinball machines plus FREE table games like Jenga and Connect4. I've played the Billiard table here (CZK100 per hour) and it's got it's own room or there's Table Tennis (CZK200 per hour) and note if you upgrade to the black light mini golf with beers or the table-tennis with beers etc then those beers are going to work out at CZK25 each. That's a good price.
---
Other Stuff
The Black Light Mini Golf and Games are located behind the National Theatre so less than 10 minutes walk from Wenceslas Square or the Old Town. They accept credit cards. Under 15s have to be accompanied by at least one adult.
Check the Activity Price and Availability
---