Villa Tugendhat (UNESCO) – Fascinating Story
---
In the 1920's, Czechoslovakia was in what is now called the "First Republic". A time of wealth, creativity and boundary-pushing. No single place in the country is a better example of this period than Villa Tugendhat in Brno. It's the story of three people, an architect with a clear style, a woman with a clear vision and a father able to pay for it.
---
The architect was German-born Ludwig Mies van der Rohe. Son of a stone mason and himself formerly a bricklayer, he moved in the direction of building design. He designed his first house aged 24 (1906) and was running his own design business by the age of 36 (1918). From 1921 he embarked on his recognised design style of minimalism, modernism and hygiene. It was during this time that he designed a house in Berlin for Hugo Perls (later extended with an art studio for Edward Fuchs) and also supervised the design and construction of the Weissenhof estate in Stuttgart (1928).
In 1922 a woman named Grete Low-Beer from a well off German-Jewish family in Moravia began living in Germany as part of a marriage which eventually failed. However, her time in Germany had exposed her to the work of Ludwig Mies van der Rohe and she was hooked on the style. She remarried soon after to a man called Fritz Tugendhat and they decided to commission a family home close to the Czech city of Brno. Grete Tugendhat had a clear vision of what she wanted and after being introduced to Ludwig Mies van der Rohe, engaged him as their architect in 1928.
The land in the suburb of Cerná Pole (now central Brno) was given by Grete's parents and the building financed by her father. A local building company was engaged and from start to finish Villa Tugendhat took 14 months to complete. The Tugendhats began living there in 1930 (8 years later had to escape to Switzerland just prior to the outbreak of war).
---
The Building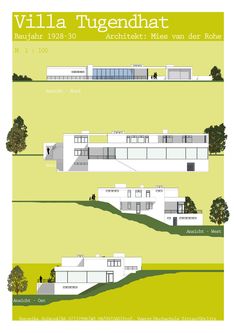 From the street it looks like a bungalow but this is technically the first floor of the 3-floor structure and would have provided the bedrooms for the family and nanny plus play room for children and access to the upper open terrace. One floor down (ground) takes you to the living area, kitchen, terrace and servants quarters. Finally the basement is given over to most of the technical wonders of the heating and air conditioning systems plus storage, a dark room and a special room just for fur coats unattractively called "the moth room". The design was truly cutting-edge for the time in that these materials, systems and building techniques had not previously been used on a residential building. A steel skeleton provided the strength for the large interior/exterior spaces to have an uninterrupted view over the garden and city. Steel also extended to the doors and the window frames. Villa Tugendhat used Italian Tavertine stone (for the walls, column cladding, staircases, internal and external flooring) and Onyx (for a double-sided feature wall). It also used hard woods that he called "noble" like Palisander, Rosewood and Ebony. Window panes and a dining table controlled by electric motors could be retracted into the floor. The whole design was based around the concept of flowing space so the furniture was kept minimalist but still hi-tech, functional and elegant. Villa Tugendhat became a UNESCO World Heritage site on 16th December 2001.
---
Who Should Go To Villa Tugendhat
Anybody with an architectural or design appetite. Anybody who wants to see what it was possible to create pre-WW2 given enough money and ideas. Anybody who appreciates that the structure itself is also part of the decor. Villa Tugendhat does a Basic tour and an Extended tour. If you are in any way interested in the engineering systems of the Villa Tugendhat then take the Extended tour. Bookings are recommended in advance and availability of dates varies as they host other events so check their website for details.
---
How to Get There
Driving will take 90 minutes (give or take for roadworks etc, get off at junction 190 and take signs for Cerná Pole) and there are paid parking facilities. Taking a train from Prague Main Train Station may be more comfortable as again you are looking at around two hours to get to Brno's main train station (Hlavni). From there take tram number 9 eight stops and get off at Tomanova. Head in the direction opposite the park and in two blocks you'll be outside of Villa Tugendhat.
Details at http://www.tugendhat.eu
Photo Credit: GoToBrno
---