Prague Photography Tours
---
If you are coming to the city and you want to combine a love of photography with a walk around one of the most photogenic cities in the world then here's a place to start.
I'm a bit picky about instructional tours that also sell themselves as guides, the communication has to be right. Treat it as a photography lesson from a professional photographer first and a tour second. As I find good options I'll put them here. Right now I only recommend two Prague Photography Tours, both of them night tours but there are subtle differences.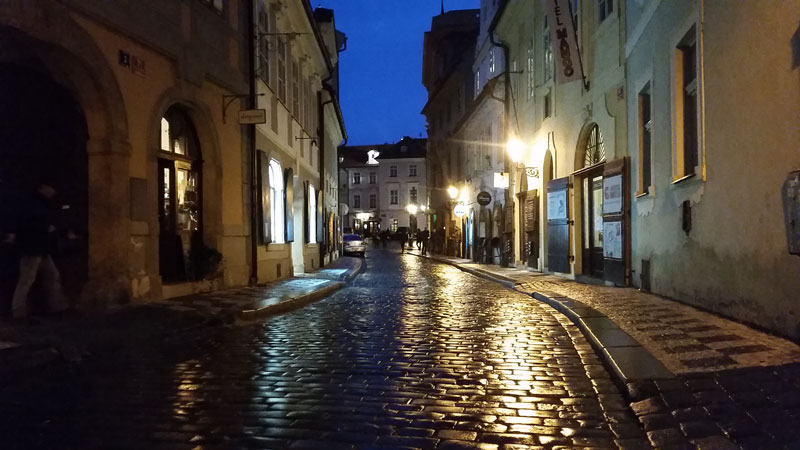 ---
Common Stuff
What both tours have in common is they are specialised night Prague photography tours so you'll be learning primarily about light management and exposure times which is no small thing. When you come here you'll soon find that the city is either well lit, or dark with bright points of light coming from other lit buildings. It also means you'll need a good quality tripod with you for these tours and my advice is to bring a bottle of water as well (not many open shops around at night). You are going to be seeing a LOT OF HISTORIC BUILDINGS. Obviously you are not just going to take pictures of everything. The guide will pick certain spots where you get the space to setup etc. Both will include close-up historic, wide-angle panoramic shots and deserted streets (with orange lights). The route always includes Hradčany because of the historic nature of the Prague Castle and also for the spectacular panoramic city views from the top of the hill. Meeting points are generally within a 15 minute walk from the Old Town Square. Obviously do this type of tour as soon as you arrive to get the most benefit.
---
Night Photography Tours – 2 Hours by Car
Note that this tour is not going to teach you how to use your camera so you must be familiar with night settings etc. What it will do is basically provide a taxi service for you to quickly get around the city with a guide to explain the historical significance of the buildings that will be in your picture. Most of the city landscape pictures will be from Letna Park. Also note that parts of the tour are in pedestrianised areas like the Charles Bridge and the Old Town Square. Still it will get you around some of the most scenic points in the city with the least amount of effort.
Check Availability of the 2 Hour Night Photography by Car
---
Night Prague Photography Tours – All Levels – 3 Hours
CURRENTLY NOT AVAILABLE
This is a private tour priced per person, NOT a mixed group. What I mean by all levels is that before you do the tour the guide will ask what your expectations are i.e. a skilled photographer or pro will be looking for the best angles, vantage points and local knowledge. A less able photographer my want to understand settings and/or even to be shown on the camera where to make changes. This will dictate the route and number of photos to be taken. It's a nice route which starts in the Old Town and includes Charles Bridge plus the central Lesser Town and Hradčany. I like the tour duration at 3 hours but I especially like the option for bringing others i.e. you'll pay the most for the Prague Photography Tours aspect but others like your wife/partner can pay a discounted price and enjoy it as a city tour. So great for beginners just learning, great for an interested spouse, great for the riverside "reflection" shots, tour pick-up included and tripod is supplied.
---
Night Prague Photography Tours – Skilled Only – 4 Hours
CURRENTLY NOT AVAILABLE
Firstly this is a group tour – Max 10 people. Let's start by saying that you need to know your digital camera that's why I say this one is for "Skilled Only" photographers. It does not matter if you are using the latest Nikon or a 20 year old Canon, if the guy says change to a certain aperture or set light levels manually then you MUST know what you are doing so all the tour time goes into the shots. If you are not comfortable with that then go for the tour above. I like the route of the tour and the different experiences it gives you for fixed building shots and time-lapsed traffic etc as it starts in the Lesser Town before moving up to Hradčany. I also like the group size of 10 or less. This tour expects you'll know how to manage the camera so it's great for learning angles and composition, great for vantage points and local knowledge, great for meeting other interested photographers and comparing notes. You bring your own tripod.
---
---