Prague Folklore and Medieval Tour Review
---
The format of this type of tour is that you'll be based in one place with unlimited beer/wine. They can both be fun and interactive so your choice of tour will determine the entertainment offered. For example on a Prague Folklore tour it will mostly be music/dancing and you'll be encouraged to join in both. In the case of a Prague Medieval tour it will be belly dancing, juggling, fire-eaters etc. You'll receive a multi-course meal during the entertainment. I describe different options, what to expect and my own recommendations.
---
Common Things to Expect
1) Pick-up and drop-off to the hotel but you may be transferred only to the meeting point and from there you'll be bussed to the venue so check where the meeting point is because it may be faster for you to walk.
2) Unlimited Beer may also be referred to as an "Open Bar".
3) Waiter service to table.
---
Medieval Night (Old Town)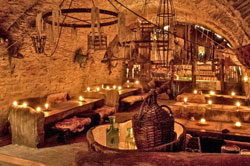 The venue is in the Old Town. Basically a Gothic basement decked out with various decorations from the middle ages. Bench seating so everybody will be friendly and plenty of room for the entertainment in the centre. My advice is to sit facing the centre of the room. It's a multi course menu and unlimited beer served over 2 hours alongside a range of entertainment including belly dancers, jugglers, sword fighters and fire-eaters. They offer a vegetarian option but I don't think any vegetarian would want to do this kind of event as it's meat heavy. They offer hotel pick-up/drop-off but to be honest you can walk here from anywhere in the Old Town in less than 10 minutes so long as they give you the address.
Check Tour Availability and Book Online
---
Medieval Night (Lesser Town)
The venue is in the Lesser Town. Let me put a BIG WARNING on this one and say that whilst the food and the entertainment is great, if you have any claustrophobic tendencies then AVOID this one and go to the Old Town venue above.
As usual it's heavy Czech food and unlimited beer interspersed with the entertainment (look out for the blackened ceilings from the fire-eaters). Great for people in the Lesser Town area or it's a 20 minute walk from the Old Town to get here.
Check Tour Availability and Book Online
---
Folklore Evening 2.5 hours (Prague 5)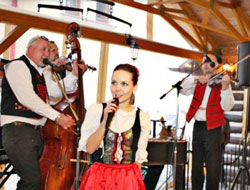 There is only one original Folklore venue in Prague and that is this place that I know as Folklore Garden. From meeting point to venue takes about 20 minutes and from there on you'll have about 3 hours of eating, drinking and entertainment. It's the only place I know that gives "Medovina" (Honey wine) as a welcome drink. It's a big place with a capacity of 700 overall but still 300 in the main timbered house where most of the groups will be but there is a lot of space to move around especially in the garden area. It's a fun time, loads of pine benches and tables with lots of room for the music and dancing entertainment as it works it's way around. Not just Dulcimer, they have a range of instruments to play. Do you play an instrument? then you can give it a go here as well. Dressing up in local costumes and playing games is all part of the evening. Child Friendly. It's a fixed 3 course meal or you can choose from special menus including a Gluten Free option.
Check Tour Availability and Book Online
---
Folklore Evening 3 hours (Prague 6)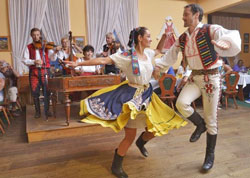 Compared with the Folklore option above this is a pretty sedate affair. It's a Prague 6 location and it's a restaurant so you'll be seated most of the time while the entertainment will be from a stage in the centre of the large dining room. Unlimited beer, a fixed 3 course menu and Dulcimer band. If they use the "U Marcanu" venue then you can walk here from the Veleslavin metro station in 5 minutes.
Check Tour Availability and Book Online
---
Some Random Things to Do and See in Prague