The Prague Old Town and Christmas Markets Tour – The Festive Feeling Tour
---
NOTE: I've now moved all of my tour related pages over to the dedicated website at https://www.livingpraguetours.com where you can read about me, my ethos, the range of tours that I offer, the booking process, Reviews and FAQ etc. Any links below will direct you to that site.
---
Are you looking for a Prague Christmas Markets Walking Tour that includes the New Town, Old Town and Jewish Quarter? Something that includes learning about the Czech Christmas Traditions. Are you looking for a Native English Guide and do you want a Small Group (no more than 6)? Then read on as this tour is for you. NOTE: This tour runs from the official opening night of the Old Town Square market (first Saturday before December 5th) until December 23rd. Feel free to CONTACT ME if you have questions.
Start: Wenceslas Square
Finish: Old Town Square
Duration: 2.5 Hours
Difficulty: Easy, flat ground
Food and Drink Included?: Yes if that ticket option is selected.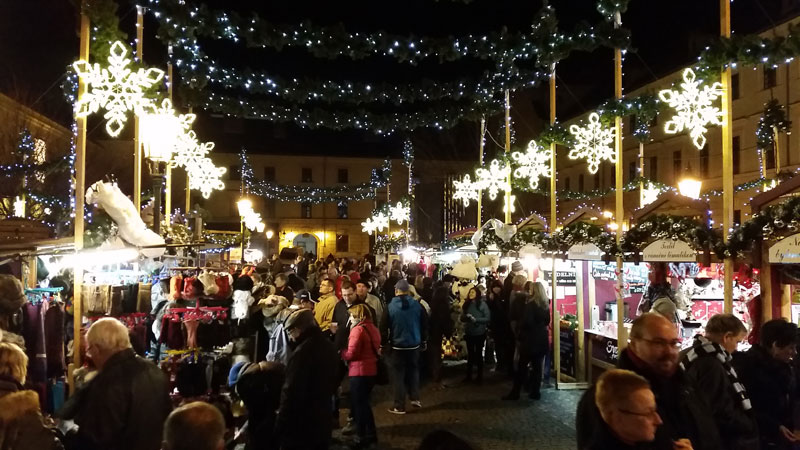 ---
What's Covered in the Prague Old Town and Christmas Markets Tour
With a 3pm start we begin in the daylight and finish in the dark
Czech Christmas Traditions – Barborka
Czech Christmas Traditions – Mikulas Night
Czech Christmas Traditions – Sending cards and making sweets
Czech Christmas Traditions – A tree story
Czech Christmas Traditions – A fish story
Czech Christmas Traditions – The 24th, a Golden Pig
Czech Christmas Traditions – Three Kings
Learn where the Christmas Tree on the Old Town Square comes from
Learn about the different food and drink choices in the Markets and what to watch out for
The Wenceslas Square Christmas Market
Lucerna Passage
The Art of David Cerny
Possibly the nicest post office in the world
Choose something to eat and drink from the market stalls
The Republic Square Christmas Market including a hot food and drink stop
The Jewish Quarter via the backstreets
The Old Town Square Christmas Market, the main attractions on the Old Town Square
The Christmas Tree sound and light show
Check Tour Availability and Book Online
---
---