Which Prague Hilton Hotel?
---
I was reading this month that the Prague Hilton is 30 years old and almost at the same time I arranged to meet walking tour clients at the Prague Hilton. Of course my first question was "which one?". It got me thinking that I should write a post so people can understand the difference between the two Prague Hiltons and help you decide which may be best for you.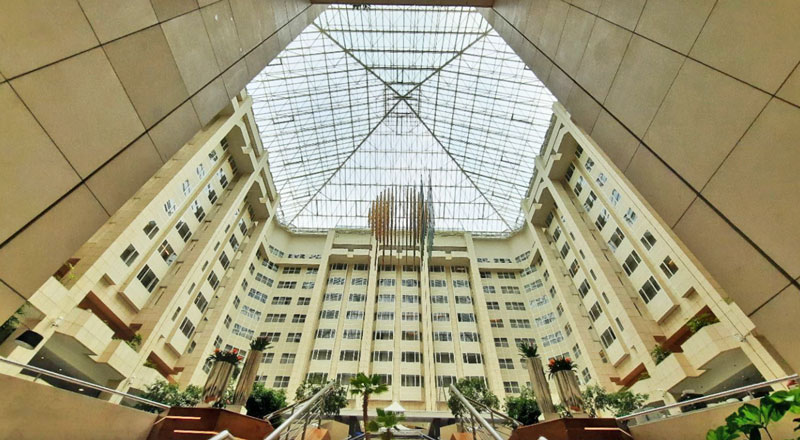 The Original Prague Hilton
The original Prague Hilton is still referred to to by many Czechs including taxi drivers as "The Atrium" basically because the building was purpose-built as a hotel and designed around a huge internal atrium (pictured above). It became known as the Prague Hilton in 1991 and after much discussion and brainstorming they eventually settled on the name "Hilton Prague". It's right on the border of Prague 1 and Prague 8 so your "local" area is Florenc/Karlin. You can walk to the Old Town Square in 20 minutes, there's a metro station that is two stops to Wenceslas Square or trams will take you either to Republic Square or Wenceslas Square. So, it's well connected. It's a big place with more than 400 rooms and as well as the Hilton brand people come here for 1) the Casino, 2) the Cloud 9 rooftop bar (which is also open to the public), 3) the Spa facilities, 4) the "pet-friendly" rooms and 5) FREE parking with a whopping 340 covered places.
Check current prices and availability for Hilton Prague
---
Hilton Prague Old Town
Yep, they just added the words "Old Town" at the end when they opened the new Prague Hilton. It was not a purpose-built Hilton, in fact they did a multi-million pound "sort of Art Deco" renovation after acquiring the old Renaissance Hotel. Just a small detail but it is not actually in the Old Town but 300 metres from the Old Town border (who's counting!). It sits in the Republic Square area which has the metro/tram connections and makes it now a 10 minute walk to the Old Town Square. It also introduces a better choice of local bars and restaurants for those who don't want to stray too far from the hotel. OK it doesn't have the draw of the casino but Aussies take note you can always stay in the room and play at the best Australian online casino.
Prague Hilton Old Town does not have the "visual wow factor" of its original sister hotel although it maintains an excellent restaurant, it offers the pet-friendly rooms, a smaller spa and paid-parking. If it comes down to a choice of "local area" and "walkability" then the Prague Hilton Old Town just nicks it. If these are not important for you then the original location is what you want.
Check current prices and availability for Hilton Prague Old Town
---