Prague River Cruise Selection
---
You'll find that I've now updated the River Cruise Review post which gives more detail on the types of boats, food offer etc. The ones listed below are still valid especially if you want the option of being picked up from the hotel.
Looking for a Prague river cruise? then I've got a couple of options. There's a river cruise with buffet lunch and the third is an evening dinner option (with or without guide). All are scenic whether you take a day or an evening cruise. I add cruises as I find them but these are my favourites. Look out for free pick-up and drop-off offers.
---
EVENING PRAGUE RIVER CRUISE ON THE VLTAVA WITH DINNER AND MUSIC
Duration: 4 Hours (with guide) OR 3 Hours (without guide)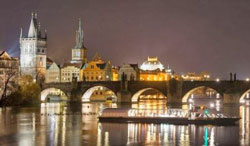 This is a straightforward Prague river cruise and dinner but you choose if you want to include the guide. I prefer the "no guide" option to the guided option as you are free to eat and listen to the music without having to listen to somebody wittering on about what year a particular place was built and by who. Just enjoy the river, the view, the meal and the music. Pick-up and drop-off may be free so check the offer. You can take all the sights at face value so bring a guidebook if you want more information. This Prague river cruise includes almost three hours of cold/warm buffet (welcome drink included) and live music. The cruise goes under the Charles Bridge with a view of Prague Castle, and the baroque churches of Lesser Town and Old Town. The boat is the same as on the other tours so the upper deck should be open. The lower deck is where you will eat so in the Summer its air conditioned and in the winter its heated. The option for this tour including an on board guide is also called "Prague by Night" and includes a bus tour around the city before you eat.
BOOK THE EVENING DINNER RIVER CRUISE (Without Guide – 3 Hours)
BOOK THE EVENING DINNER RIVER CRUISE (With Guide – 4 Hours)
---
VLTAVA PRAGUE RIVER CRUISE WITH LUNCH
Duration: 2 Hours 15 minutes
A simple but popular daytime Prague river cruise which includes a nice buffet lunch. There is no guide on the cruise so it's handy to bring a city guidebook along with you to note the major landmarks. My advice is to eat as soon as you get on the boat then go up on deck as by then the boat will have turned back towards the castle and Charles Bridge.
---
Read about all the different cruise options, boat types, reviews, tips and tricks on the Prague River Cruise Review post.
---