Prague Cobbles not cobblers
---
It's a memory of Prague but will it be good or bad for you? As you leave the airport you'll wheel your luggage to the taxi across beautifully flat granite paving. The next time you'll see that is when you get back to the airport as if you are in the centre of town you'll be walking on what we call the "black and whites". These are little cobbles about 6cm cubed and are used exclusively on the pavements. You'll find various colours and patterns including crosses, diamonds, squares and outlines. They look very pretty.
---
Very pretty but very light and susceptible to damage and so if one gets taken out then all the others around it will lose their strength and will either turn or go out of line. Either way there's now the nice hole which will turn your ankle a treat.
Now the ones in the roads. These are huge blocks some 25x15x15cm, very heavy and very smooth. You won't have any issues with holes in the road but watch out for the kerb which will be higher than usual. So in the summertime the cobbles look very smart and attractive and you'll see teams of people relaying the cobbles, plastic pads on the knees, hammer in hand going line by line. Two colleagues in front leveling the sand and one behind brushing it into the cracks. It's really quite relaxing, almost hypnotic to watch them working. The cobbles also suck in the heat so it can be like a furnace during the day in hot weather.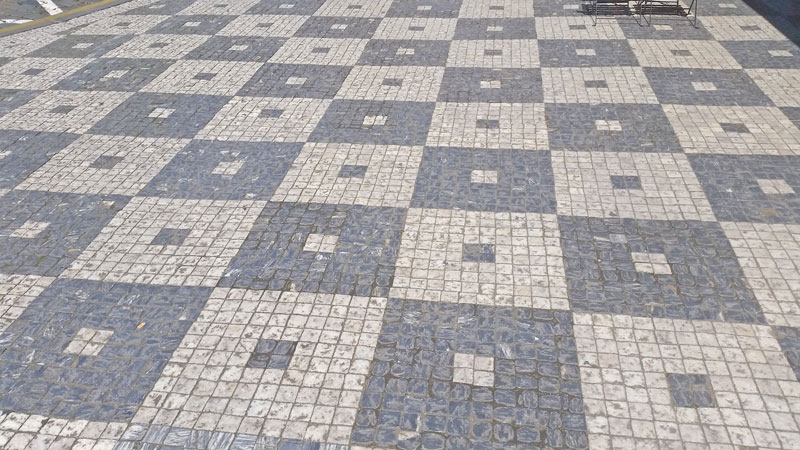 ---
Great in the sunshine but come rain and ice it's not so pretty. On the pavements if water gets under the cobbles it freezes and lifts them which will cause a few stumbles. On the road braking distances increase so be really careful around pedestrian crossings where even slow moving vehicles can get caught out.
---