A Word of Advice – Prague Safety
---
The biggest problem in Prague are pickpockets. If you understand how to combat this crime then your stay will be much happier. Take the basic Prague safety precautions below and you'll stay crime-free hopefully and if you do see somebody who presents an easy target just let them know.
Not a scam but, an advisory video https://www.youtube.com/watch?v=lVSUWPEWuCA to help keep you safe.
---
Pro-active Precautions to Take
Make a photocopy of the photo page of your passport and any other pages that contain visas etc. A simple precaution but, ask yourself how you would prove who you are in a foreign country without this info. TIP – I scanned my passport onto a .jpeg file which I have uploaded to this website so I can access it from anywhere.
Make use of your hotel safe (try and avoid the room safes). Put your passport here. You are expected to carry your passport/ID with you at all times if you are driving. You do not need it if you are walking. Try to keep one item of identification with you.
Do not put all credit cards in one place. i.e. do not put them all in the safe and do not carry them all on your person.
Women should bring a flap-close hand bag if possible. Clips and zips are not recommended.
When carrying a bag with a flap-close top, keep the open part against your body. Small backpacks although convenient are an easy target for a razor slit. Backpackers familiar with this type of attack often have a piece of chicken wire in the base of their pack.
Avoid carrying a wallet if possible. Instead, split your cash throughout your pockets.
Wrap around "Bum Bags" are easy targets for a slit or to be taken completely, invest in a pouch that attaches directly to your belt.
Don't change a lot of money in one go. You will find that general prices are quite reasonable or the establishment will accept credit cards. There is no need to carry lots of cash. Use a foreign exchange desk in a bank to change money as they are more private.
---
Reducing the Risk – where you have the most chance of being "picked"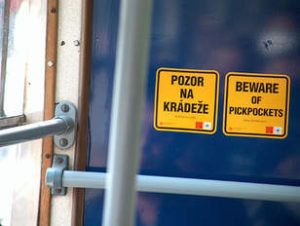 Getting on/off a tram.
Crowded tram or crowded metro.
Train Station.
Watching/photographing street tourist entertainment (includes changing of the castle guard).
Waiting for the clock to strike on the Old Town Square.
On-Street Cafe.
---
What they go for most
An easy opportunity.
Cash.
Credit Cards/Identity Cards/passport.
Mobile Phone.
Camera equipment.
---
How it Happens
I'm not attempting to eliminate all chance of this crime, only to reduce it by an amount which makes the reader of this page less of a target to a would-be pickpocket. Remember this doesn't only happen to tourists. As listed above you are most at risk when distracted by some event. You are a target because of opportunity. Here are the three biggest opportunities;
1) You open your bag in order to take something out i.e. your camera to take a picture of something or money to pay for something. By the time you put it back into your open bag your wallet/phone has been taken. This can be prevented by either securing your bag immediately after taking anything out or else carry the camera in your hand at all times. This often affects women more than men as they will take out a purse to pay for something, leaving their bag open.
2) You are eating outside in the sunshine with your bag on the table or by your side. The sound of a tray falling on the floor or a loud noise causes you to look away. When you look back, the bag is gone. This can be prevented by putting the bag between your feet or by putting the leg of your chair through the strap.
3) Getting on a tram or bus, you have been targeted because of your type of bag or how you are carrying it. As mentioned above zips and clips are easy to open in this situation. A flap bag carried close to the side would not present an easy opportunity. You could also leave the step in front of you free as you get on, that way you can use the space to turn around if necessary (pickpockets working in pairs will try and get in front of you and behind you but, the one at the back will try and pick). Stepping forward into the space and turning will mess him up.
---
A bag is still the safest method of keeping your valuables so long as you keep it closed and protected. I have seen too many people wandering around Prague trying to explain to a policeman who cares little and who does not speak English that they have been the victim of another pickpocket. You'll have noticed that the chances of having something stolen from your "pocket" is actually quite small. The pickpockets know when you are most vulnerable and it's not when you are walking along with your wallet safely buttoned up in your back pocket. It's when you take it out to pay for something and put it back unsecured. Before you have left the shop, your wallet would have left your trousers. Most people think that they are observed or "cased" as they move around but, really most are the victim of opportunity. If you see somebody who appears to present an opportunity, tell them. Some of the thieves are skillful but, most are ordinary people looking for easy money. Anyone drinking a coffee in Malostranske opposite the tram stop cannot fail to see the numerous half-hearted and clumsy attempts to try and "pick" somebody getting on the tram. Most "pickers" are easy to spot not just by their demeanour but also, most will have a jacket or something draped over their arm (to provide cover for the pick).
Spend your day seeing the sights not seeing the inside of the Foreign Police office.
---
Since September 2006 the Police operate a different reporting method. Before this date you would have to go to a Foreign Police station or to a regular station and wait for the Police Officer who speaks your language. He would then ask the usual questions and after 3 hours you leave.
The way it works now is that you go to any police station. They identify your language and give you a standard report form. You fill in the appropriate parts of the form and sign it. They then stamp the form and you get a copy. There's no investigation of the crime, only the insurance compliance.
---
My Own Guided Tours – Cheaper Than You Think!