The Czech Namesday
---
When you look at the Calendarium on the Old Town Hall you'll see that outer ring has many names and that each day the name changes. This goes back hundreds of years and many of these names are no longer used but the Czech Namesday remains and uses more modern names as well.
Basically on any given day (apart from New Years Day and state days etc), you'll find a name or names associated with it. If you are a woman then expect flowers and chocolates and if you are a man you can expect a few drinks from your friends. Funnily though, women also seem to get the drink but men don't get chocolates and flowers. Any flower shop will have a sign outside saying "Dnes má svátek" and the name (usually a woman).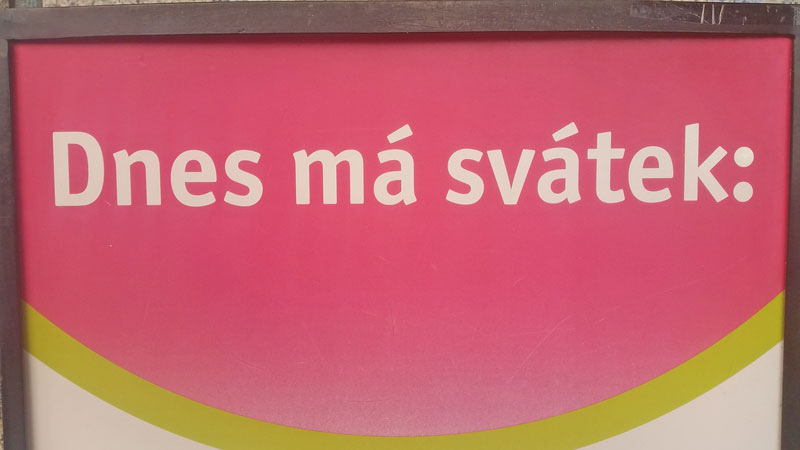 ---
Scroll down to see whose names are celebrated during your stay or find your own name (or something close to it).
---
JANUARY
New Years Day
Karina
Radmila
Diana
Dalimil
3 Kings
Vilma
Cestmir
Vladan
Bretislav
Bohdana
Pravoslav
Edita
Radovan
Alice
Ctirad
Drahoslav
Vladislav
Doubravka
Ilona
Bela
Slavomir
Zdenek
Milena
Milos
Zora
Ingrid
Otylie
Zdislava
Robin
Marika
---
FEBRUARY
Hynek
Nela
Blazej
Jarmila
Dobromila
Vanda
Veronika
Milada
Apolena
Mojmir
Bozena
Slavena
Venceslav
Valentyn
Jirina
Ljuba
Miloslava
Gizela
Patrik
Oldrich
Lenka
Petr
Svatopluk
Matej
Liliana
Dorota
Alexandr
Lumir
MARCH
Bedrich
Anezka
Kamil
Stela
Kazimir
Miroslav
Tomas
Gabriela
Frantiska
Viktorie
Andela
Rehor
Ruzena
Rut/Matylda
Ida
Elena/Herbert
Vlastimil
Eduard
Josef
Svetlana
Radek
Leona
Ivona
Gabriel
Marian
Emanuel
Dita
Sona
Tatana
Arnost
Kvido
---
APRIL
Hugo
Erika
Richard
Ivana
Miroslava
Vendula
Herman/Hermina
Ema
Dusan
Darja
Izabela
Julius
Ales
Vincenc
Anastazie
Irena
Rudolf
Valerie
Rostislav
Marcela
Alexandra
Evzenie
Vojtech
Jiri
Marek
Oto
Jaroslav
Vlatislav
Robert
Blahoslav
---
MAY
Labour Day
Zikmund
Alexej
Kvetoslav
Klaudie – Prague 1945 Uprising
Radoslav
Stanislav
Liberation Day
Ctibor
Blazena
Svatava – Mothers Day
Pankrac
Servac
Bonifac
Zofie
Premysl
Aneta
Natasa
Ivo
Zbysek
Monika
Emil
Vladimir
Jana
Viola
Filip
Valdemar
Vilem
Maxmilian
Ferdinand
Kamila
---
JUNE
Laura
Jarmil
Tamara
Dalibor
Dobroslav
Nobert
Iveta
Medard
Stanislava
Gita
Bruno
Antonie
Antonin
Roland
Vit
Zbynek
Adolf
Milan
Leos
Kveta
Alois
Pavla
Zdenka
Jan
Ivan
Adriana
Ladislav
Lubomir
Petr/Pavel
Sarka
---
JULY
Jaroslava
Patricie
Radomir
Prokop
Introduction of Christianity
Jan Hus
Bohuslava
Nora
Drahslava
Libuse/Amalie
Olga
Borek
Marketa
Karolina
Jindrich
Lubos
Martina
Drahomira
Cenek
Ilja
Vitezslav
Magdalena
Libor
Kristyna
Jakub
Anna
Veroslav
Viktor
Marta
Borivoj
Ignac
AUGUST
Oskar
Gustav
Miluse
Dominik
Kristian
Oldriska
Lada
Sobeslav
Roman
Vavrinec
Zuzana
Klara
Alena
Alan
Hana
Jachym
Petra
Helena
Ludvik
Bernard
Johana
Bohuslav
Sandra
Bartolomej
Radim
Ludek
Otakar
Augustyn
Evelina
Vladena
Pavlina
---
SEPTEMBER
Linda/Samuel
Adela
Bronislav
Jindriska
Boris
Boleslav
Regina
Mariana
Daniela
Irma
Denisa
Marie
Lubor
Radka
Jolana
Ludmila
Nadezda
Krystof
Zita
Oleg
Matous
Darina
Berta
Jaromir
Zlata
Andrea
Jonas
Vaclav
Michal
Jeronym
---
OCTOBER
Igor
Olivie/Oliver
Bohumil
Frantisek
Eliska
Hanus
Justyna
Vera
Stefan/Sara
Marina
Andrej
Marcel
Renata
Agata
Tereza
Havel
Hedvika
Lukas
Michaela
Vendelin
Brigita
Sabina
Teodor
Nina
Beata
Erik
Sarlta/Zoe
Independent Czechoslovak State
Silvie
Tadeas
Stepanka
---
NOVEMBER
Felix
All Saints Day
Hubert
Karel
Miriam
Libena
Saskie
Bohumir
Bohdan
Evzen
Martin
Benedikt
Tibor
Sava
Leopold
Otmar
Mahulena
Romana
Alzbeta
Nikola
Albert
Cecilie
Klement
Emilie
Katerina
Artur
Xenie
Rene
Zina
Ondrej
---
DECEMBER
Iva
Blanka
Svatoslav
Barbora
Jitka
Mikulas
Ambroz
Kvetoslava
Vratislav
Julie
Dana
Simona
Lucie
Lydie
Radana
Albina
Daniel
Miloslav
Ester
Dagmar
Natalie
Simon
Vlasta
Adam/Eva
Christmas Day
Stepan
Zaneta
Bohumila
Judita
David
Silvestr
---