Prague Japanese Restaurants – Planet Sushi
---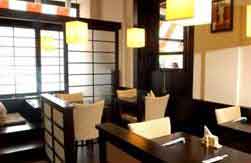 Planet Sushi has a main dining area as you walk in off the street and another narrow area on the side for couples (smaller tables) plus one special table for two that they've built which basically lets you sit on the floor (raised) while you eat next to the frosted front window. Comfortable yet spartan furnishings but again when the food arrives you've got nothing on the table to get in the way except maybe your drinks. We use this place for an evening meal before going into the Palace Cinema in the opposite building complex (other side of the Andel Metro). Good selection of sushi, fairly quick service so long as you don't order something that has to be made separately and a good location for anybody wanting to make a short detour to see Andel.
---
Planet SUshi – The Food
I've had different things at different times at Planet Sushi. For example, if on my own their Bento lunch menu (Tori Bento is my preferred) is tasty and good value. However, if I'm here for a pre-cinema evening meal we'd go for something like the Premium Set which is all Maki with 7 different types. Alternatively taking one of the soups as a starter and choosing either a selection of sushi or a cooked main course is equally as fun.
My Favourite: As previously said, as a couple, the Premium Maki set and a Miso-Shiro soup to start. On my own it would be the Chefs special "Hotate" (scallop sushi on a salad) and either Tori Don (Teriyaki chicken with omelette and rice) or the Teppanyaki Chicken with rice and aromatic sesame seeds.
---
Location
Nádražní 58
Prague 5, Smíchov
www.planetsushi.cz
---
Back to Japanese/Sushi Restaurants
Back to All Restaurant Categories
---