Prague Shakespeare Company
---
PSC is the only professional English-language classical theatre company in the Czech Republic. The "Raison d'Etre" of the Prague Shakespeare Company is to continue the rich tradition of providing entertainment, enlightenment, education and inspiration for audiences, artists and students – not only here in Czech Republic but in Europe and worldwide. However, PSC does not restrict itself only to the works of William Shakespeare.
---
Prague Shakespeare Company is humbled to be a part of the city's global, culturally dynamic landscape – bringing high-calibre, relevant, classical yet cutting-edge theatre to this thousand-year old city situated in the heart of Europe.
Remember that they play in different venues so the theatre may have as little as 50 available seats depending on the size of the set so it's worth reserving online and collecting when you get here. Also that the box-office opens TWO hours before the scheduled performance start time.
Performance Schedule and Prices
---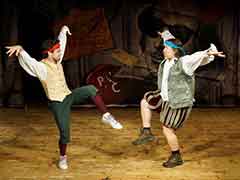 Two of My Favourite Prague Shakespeare Company Performances
Performance – The Complete Works of Shakespeare (Abridged)
5 Guys, 38 Plays, 100 Minutes. The hilarious, beloved comedy that has delighted audiences around the world performed in a uniquely Prague Shakespeare Company style. An irreverent, fast-paced romp through the Bard's plays, our madcap troupe weave their way through Shakespeare's Comedies, Histories and Tragedies in a wild ride. You'll laugh, you'll cry, you'll fear for your safety – you'll have an unforgettable night!
---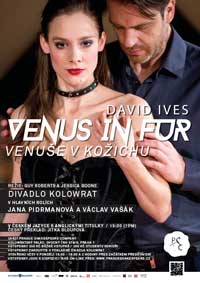 Performance – Venus in Fur
In David Ives' newest masterpiece for the Prague Shakespeare Company, we are introduced to Vanda, an unusually talented young actress determined to land the lead in Thomas' new play based on the classic erotic novel, Venus in Fur. Vanda's emotionally charged audition for the demanding playwright/director becomes an electrifying game of cat and mouse that blurs the lines between fantasy and reality, seduction and power, love and sex, entering into an increasingly serious game of submission and domination that only one of them can win.
---