Andel Hotels – Cosmopolitan Prague
---
This is a Prague 5 district area so staying in Andel means you are not in the historic area of Prague. The main advantage of this is price i.e. accommodation in the area is much cheaper than central Prague. You just have to be aware that you'll need to use public transport or else be ok with long walks i.e. 40 minutes to the Old Town or Prague Castle. Lots of great little bars and restaurants in the area and part of Andel borders the riverside. Here's a short list of recommended Andel Hotels.
---
5* Hotel General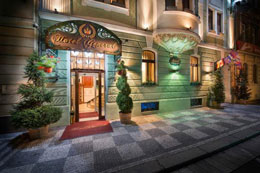 One of the oldest hotels in Prague but, fairly hidden away. Located on a main road in the old commercial district on the border of Smichov so I recommend rear-courtyard facing rooms. You'll have some walking to do (20 minutes to Mala Strana or the Old Town). It's less than 5 minutes walk to the Andel Metro and the surrounding area with it's bars and restaurants but you will only be coming here for a meal or to use the metro/tram system. In-room safe deposit will take a standard 15? laptop. Good options for parking if you are driving here.
Check availability and price options for the Andel Prague Hotel General
---
4* Angelo Hotel
Vitally IMPORTANT that you don't get this one mixed up with the three star "D'Angelo". This is a purpose built modern four star hotel in the centre of Andel. Spacious rooms with modern decor. Suites occupy the top floor and have nice views over Prague (with outdoor terrace as well). Good packages with free room upgrades offered. A popular choice for business travellers and conferences who want something a bit different than the Hilton/Holiday Inn etc. Good gym but wellness services are extra. It will be a 5 minute walk to the metro/tram stations and from there allow either a 20 minute walk or a 5 minute tram ride to get to Mala Strana.
Check availability and price options for the Prague Angelo Hotel in Andel
---
4* Andel's (Design) Hotel and Suites
I'm grouping the next two places into one. The reason for that is that it is basically the same place but half of the building is configured as apartments. Andels Design Hotel is in the centre of the "new" Smichov area. Very modern. Very chic. High spec rooms including CD/DVD, flat screen TV and individual air conditioning. Options for studio and 1bed suites. Less than 5 minutes walk to the metro station and tram lines.
Something special: Room safe also has a built in laptop charger.
Andels Design Suites is next door to the hotel. 51 different apartments of varying configuration from studio to 2 bedroom maisonettes spread over 5 floors. It has a separate group of apartments on the 6th floor roof (studio and 1bed suite) all with kitchenette and great views.
Something special: the maisonettes
Check availability and price options for the Prague Andels Design Hotel in Andel
Check availability and price options for the Prague Andel's Design Suites in Andel
---
3* Ibis Mala Strana Andel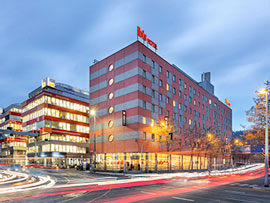 Don't let the name fool you. This is firmly in Andel which makes it a 20 minute walk to Mala Strana. Hotel Ibis Mala Strana is one of the newer hotels in Prague and is behind the main Andel area but, only 3 or 4 minutes walk will connect you with the metro/tram networks. Standard Ibis accommodation, this is often recommended for people driving here from the west side of the city via D5. If you want Ibis and central then check the Ibis Wenceslas location first as you'll have Novotel facilities next door (for a charge).
Check availability and price options for the Prague Hotel Ibis (Mala Strana) in Andel
---
3* Hotel Akcent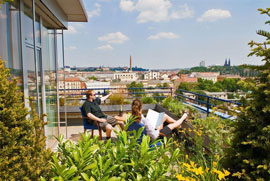 Located almost in the centre of Andel so it's only a 2 minute walk to the metro and tram stops which are surrounded by restaurants, bars and shops. From there it is three tram stops or a 20 minute walk to Mala Strana or four tram stops to Wenceslas Square. The hotel is on the top floor of an office building. No particular style to the place but of the 50+ rooms at least half have great views and some have balconies.
Check availability and price options for the Prague Hotel Akcent in Andel
---