Kalina Restaurants in Prague
---
There are two Kalina restaurants in Prague, one tucked away in the Old Town and the other next to the river in the Lesser Town. Both have friendly and professional service. Both have a modern interpretation of Czech cuisine. If you are going for the expensive end of the menu and a fine wine then expect to pay @CZK800-CZK1000 for the a-la-carte meal or less for the weekly lunch menu. The menus at each location are different but also seasonal so I'll describe what I had to give you an idea of what to expect.
---
Kalina Kampa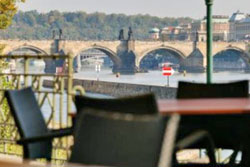 It's called Kalina Kampa because it's at the edge of Kampa Park. It has a Lesser Town location and overlooks the river. There is no view from the restaurant itself but it has pleasant outdoor seating April to October by the river. It has a very bright but also warm interior and a capacity of about 40 with a separate private area so it can be busy but not crowded. Even though they had Wild Boar and Veal on the a-la-carte I decided on fish for both the starter and main course. My menu had three types of fish i.e. Perch, Carp and Sheatfish so I went for something called "Fish Fries" which was a mix of the three kinds of fish fried in batter and served with a tartar sauce. For the main course I stayed with the Sheatfish (a type of Catfish). A lovely roasted fish fillet served on a bed of creamy lentils. Not a very heavy meal but served quickly. This was a lunch so no wine and the bill came to @CZK700.
---
Kalina Anežka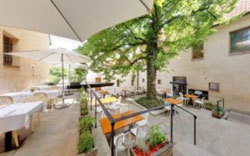 The Old Town restaurant location is pretty unique as it's part of the National Gallery at ST Agnes Convent (in Czech Anežka means Agnes). Slightly bigger than the Kampa location and no river view but it has a beautiful summer garden which is mostly shaded by the building and a large tree. From the a-la-carte menu I chose the Beef Consomme with Liver dumplings, probably the most common type of Czech soup starter. For the main course it was a tough choice as I really like Beef Tournedos but in the end I took the Chef's Signature Dish. If I see a signature dish on the menu I usually take it purely because the chef is putting his name on it and this was "Butter roasted veal sweetbreads with chestnuts, yolk croquette and autumn truffle". This was a dinner so with wine the bill came to just over CZK900.
---
Kalina Events
Events will be shown here as advertised. Details on the Kalina Event page.
So at either of the Kalina restaurants in Prague you can expect great food plus friendly and professional service in a stylish atmosphere. Details for both locations, a-la-carte, lunch menus, wine lists and online booking etc are on the Kalina Restaurants website.
---