Famous Czechs – Miloš Forman
---
Ask the average person what film directors they have heard of and it will be a pretty short list including Alfred Hitchcock and Steven Spielberg I imagine. Now ask your average Czech person and they'll probably reel off a dozen names off the top of their head without even thinking. I've watched many films in Czech cinemas over the years and I've learned to stay seated right until the end of the credits. It was because of this I learned that one of my all-time favourite films was directed by a Czech, Miloš Forman (in Czech it sounds like Milosh Forman). It came as news to me that his given name was actually Jan Tomáš Forman. Miloš was his baptised name.
---
Arrival in the USA
Before 1968 Miloš Forman had already directed half a dozen films in Czech with varying degrees of success including his 1967 "Fireman's Ball" but the political upheaval after the 1968 Prague Spring forced him out of Czechoslovakia and he departed for a new life in the USA. It was not an immediate success and Forman had to rely on a network of friends and colleagues to survive life in New York culminating in his first film directed in the USA called "Taking Off". Although critically acclaimed and the winner of the Cannes Film Festival Grand Prix it was not a commercially popular film and Miloš Forman spent the next three years in limbo.
---
The Golden Years
Back in 1963 actor Kirk Douglas had bought the rights to "One Flew Over the Cuckoo's Nest" which had been published as a novel by Ken Kesey in 1960. Kirk Douglas had it scripted as a play on Broadway and for several years had tried to get people interested in making a film. It was his son Michael Douglas who was first made aware of the work of Miloš Forman and specifically the "Fireman's Ball" from 1967. To cut a long story short Michael Douglas chose Miloš Forman as the director for One Flew Over a Cuckoo's Nest and that film went on to win the 1975 Oscar awards for Best Film, Best Director, Best Actor, Best Actress and Best Adapted Screenplay.
---
Later Life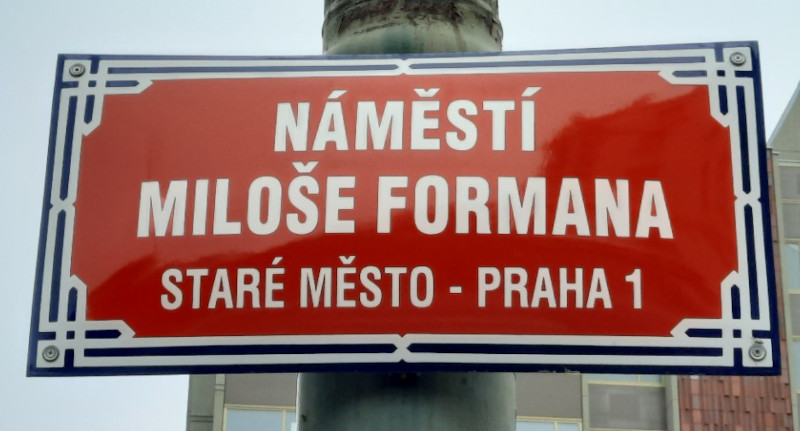 Miloš Forman would direct 16 films in his career including the musical called Hair released in 1979, Amadeus (partly filmed in Prague, it also won him another Oscar for Best Picture) released in 1984 and The People vs Larry Flint released in 1996.
Miloš Forman died on April 13th 2018 aged 86 and was buried in the town of Warren, Connecticut, USA. In October 2018 Prague renamed the Marie Curie Square in his honour to Miloš Forman Square (behind the Intercontinental Hotel in Prague).
---
Some Random Things to Do and See in Prague