Water Zorbing in Prague – Currently closed (July 2022)
---
This post is about water zorbing in Prague so just in case you are not familiar with "Zorbing" the term was commercially registered in New Zealand in 1994 but the word Zorb relating to a sphere (in this case, metal) that you could get inside can be traced back to Russia in 1973.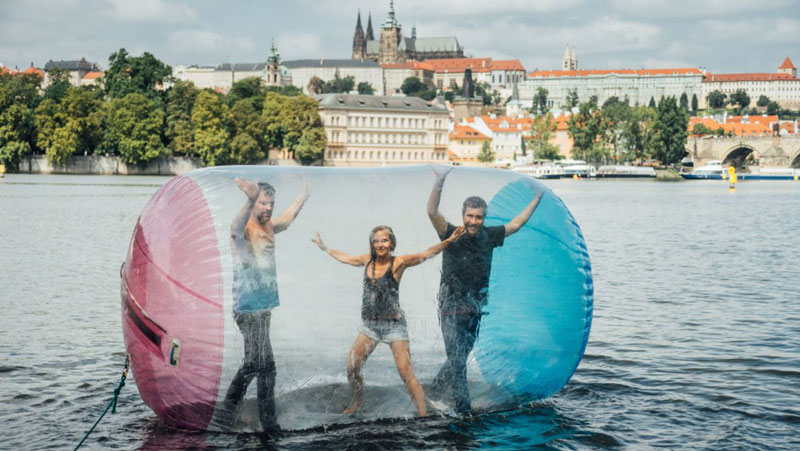 Zorbing is the process of sealing yourself temporarily into an inflated plastic vessel (can't call them balls anymore because they come in different shapes) which is propelled either by your own body power or else you rely on gravity. Mostly you'll see this done on land where you have an inflated sphere within another inflated sphere and you roll along the ground or in extreme sports, downhill. In Prague it's a sedate river activity.
Water Zorbing in Prague or it can be called Hydro-Zorbing is similar but there are a couple of differences with the land version to point out. In water zorbing your weight is cushioned by the water so there is no need for a second inflated sphere hence for water zorbing in Prague you will be in a super-tough single-layer Zorb. The other main difference is that water zorbing vessels are usually tethered for safety especially if kids are in them.
---
How Do You Water Zorb?
First, you climb inside the plastic ball having removed any shoes or sharp items. Second, the plastic vessel is pumped full of air and sealed. Third, you walk onto the water.
Now the fun part in trying to set a direction and not fall over, or if kids are involved it's who cares about the direction and let's fall over as much as possible. There are different sizes of vessels for water zorbing in Prague, the basic ball is designed for one adult but can easily be used by two kids. Expect to pay around CZK150 for 10 minutes for one zorb.
---