Prague Indoor Skydiving – Hurricane Factory
---
You could do this at any time of the year and we've enjoyed Prague indoor skydiving both in the summer for birthdays and the winter as christmas presents but at least in the summer you can use the rooftop bar. We've used this place years ago when it was called the Sky Dive Arena and in it's rebranded form i.e. the Hurricane Factory. At the time of writing the Prague Indoor Skydiving site is the only one in the country. Great memories for kids, great for people who already skydive and want to have a bit of safe fun. The average duration for the activity is 90 minutes.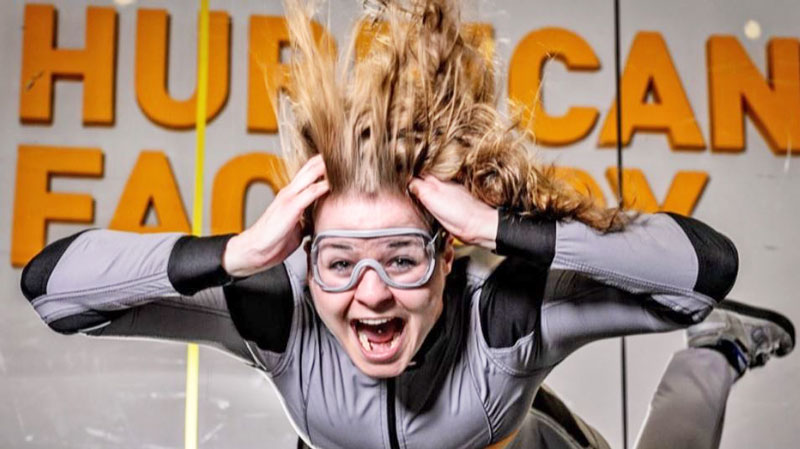 Who Should Do It?
Actually it's faster if I say who should not do it.
Children under 5 years
Pregnant women
People with problems with shoulder joints (danger of dislocation)
Persons under the influence of alcohol or other drugs
People with circulatory and heart disorders
People with back problems or injuries
Apart from the above you're good to go. You can take whatever pictures you want and you can buy video footage from the Hurricane Factory.
See Activity Details, Availability and Prices
---
What to Expect
If you use the links on this page then you are simply buying a promo code for what you want and this will be valid for at least 6 months. In the booking process you'll enter the code then proceed with making the detailed booking i.e. select a specific day, start time and number of minutes. It may be that you decide you want more time so during the booking process you'll use your promo code and pay any extra.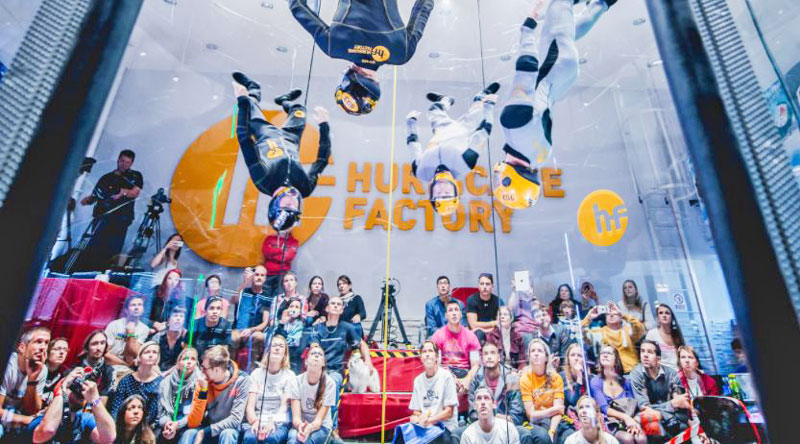 When you arrive at the arena you'll be asked to sign some papers which basically covers the insurance risk. The start time just means that you'll be called into the changing area where you'll suit up and be fitted for helmet/goggles. Then you'll go into the training area where bi-lingual instructors will teach you the basic forms of control. From there it depends on how many minutes you have bought because you'll be in a schedule depending on the number of people that day but it will be divided into blocks of 60 seconds i.e. roughly the same as jumping from a plane. Your name will appear on a screen showing your allotted timeslot so you'll line up in a small group to be taken one by one into the Prague Indoor Skydiving wind tunnel.
---
The Wind Tunnel
What a shock that first minute will be. You don't just walk into the tunnel. You grab hold of your instructor and he/she basically throws both of you in at the same time. It'll probably be like nothing you've ever experienced. It's not a natural feeling having wind trying to blow you up at 150Kmh (and that's only about half of the available speed). Your first aim is to stay level and it might take 30 seconds to get to that state but it means that the instructor can basically ride you up and down the 14 metre high tunnel so you get a feel for what's possible. You'll soon find out that small body movements result in wild directional changes so that first minute will all be about achieving level control and your neck will be a bit sore at the end. Exiting the Prague indoor skydiving wind tunnel is much like how you entered it i.e. the instructor pretty much throws you out and gravity does the rest.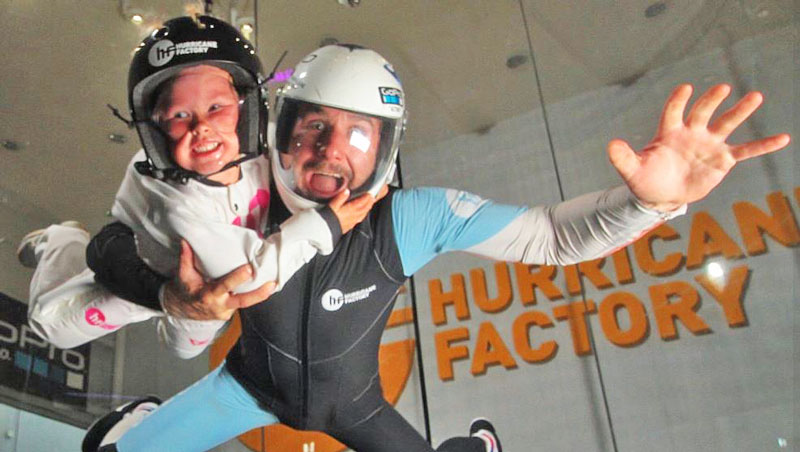 You'll now have a break for @15-20 mins but this depends on the number of people. You'll have your next timeslot so look out for your name on the board. The next 60 seconds will again be control, requiring the minimum help of the instructor and possibly beginning to go up and down with assistance. Your first attempts will usually be a quick up followed by a crash to the floor but don't worry, it's a soft floor. So from that second minute until your time expires the idea is to be able to control your ascent and descent. I'll be honest and say that the Prague indoor skydiving experience is a lot of fun even if 50% of people struggle to let go of the instructor.
---
Getting There and Back
If I was travelling from the centre then the best way by far is just to take a taxi there and back. However if you go by public transport then you'll need the Extended Adult Ticket (because it will take longer than 30 minutes) and get off at the Letnany Metro station. From there it's either a 2km walk along a street called Tupolevova (gets the name after the aircraft – you are close to an airfield here) or three stops on the bus. If using the bus you use the same ticket that you used for the metro and my preferred route is to take the 136 bus three stops and get off at Tupolevova. You keep walking in the same direction and take the next left where you'll see the big TESCO sign. Hurricane Factory is at the end of the road on the right.
See Activity Details, Availability and Prices
---