Prague Hot Air Balloon Trip
---
The countryside around Prague really is beautiful. I should know, I live in it. But to fully appreciate the view you should see it from above. So maybe a Prague Hot Air Balloon trip is something to consider during your stay.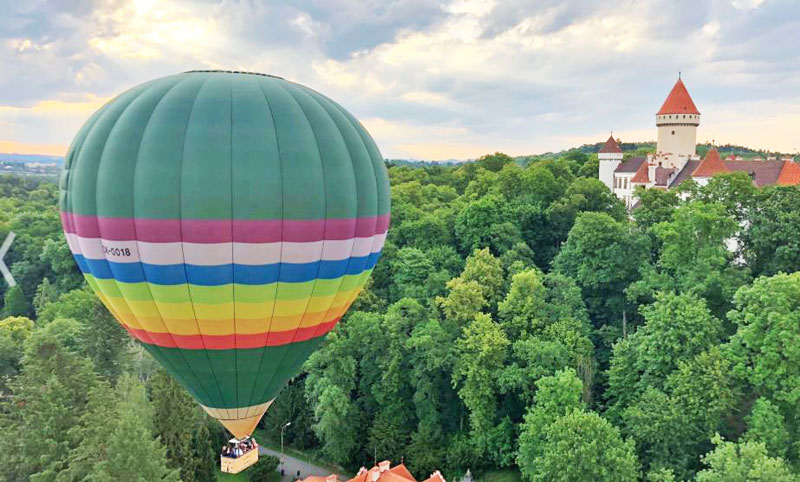 This is a family run company consisting of father/son with a small staff and when they're not flying you around they are competing in national and international flying events. I'll answer the main questions as I can and there's a booking link at the end for more detail.
---
How Long is the Prague Hot Air Balloon Trip?
You'll spend about 4 hours which includes transfer time (door-to-door), flight preparation, the actual flight which expects to be not less than an hour and probably a bit more. There's also a bit of time for some light snacks and the all important post-flight toast. Remember you are booking a flight for dawn or dusk. Dusk flights seem more popular maybe because you don't have to get up so early!!
---
How Many People in the Balloon?
There are a variety of balloons capable of carrying between 4 and 16 passengers so the balloon on the day depends on how many people have booked. The baskets are compartmentalised i.e. there's a soft bar which keeps a larger group separated just enough to be comfortable and safe.
---
What Do We See?
The take off point will vary based on conditions and wind speed etc but the flight area is my neck of the woods. That's south of the city so you are flying over the fields, forests and castles between Prague and Benesov. The highlight is a scenic pass over the Konopiste Castle/Chateau. You take whatever pictures you want and you'll also get pictures taken by the company included.
---
Any Restrictions?
Apart from being fit enough to get in and out of the basket and being at least 1 metre tall, that's it.
So you can book and find more detail about a Prague Hot Air Balloon Trip
---