One Kilo Beef Steak Challenge
---
For my readers who still work with Imperial measurements this is 2.2 Pounds or the same weight as a regular bag of sugar. Are you hungry enough or do you have the capacity for having a go at this? Then head on down to Restaurant Mustek. I know this more as a place to get Suckling Pig but they do a fairly meat-heavy menu which is normal for a classic Czech restaurant so if you want to try the big steak then let me tell you where to find it and the rules you need to be aware of. I am not recommending that you attempt this and for most I'd say this would be an uncomfortable possibly even dangerous experience but it's there to try.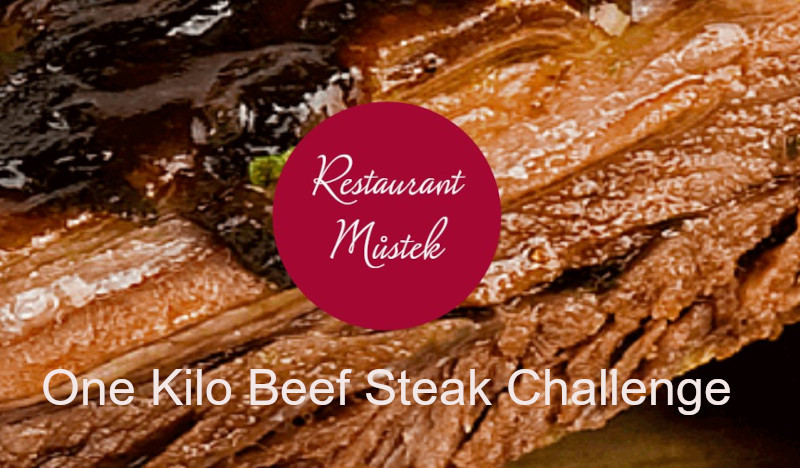 ---
Location
As you pass through the base of Wenceslas Square heading towards the Old Town the pedestrian area narrows and the second business on the left is Restaurant Mustek. You'll recognise it by the signage and the fact that it has unique "swing" tables outside.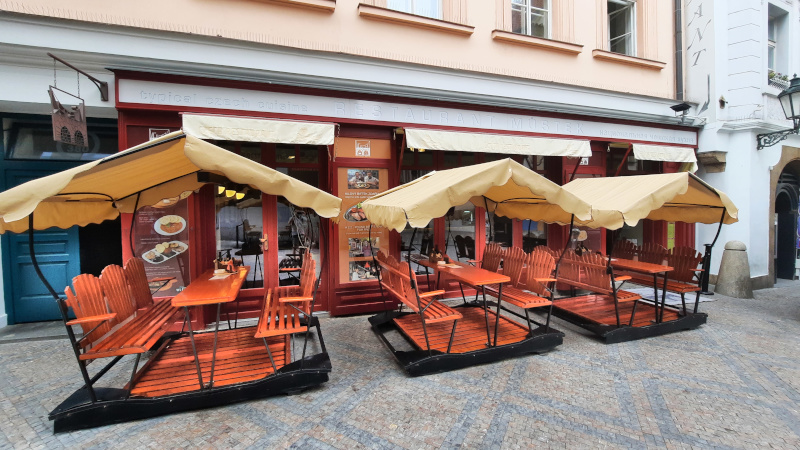 ---
What you Have to Do
You have to pay the cost in advance which at the time of writing was CZK4000. You agree how you want the steak to be cooked and ONE KILO of cooked beef steak will be presented to you (with a side salad). This may be one whole steak or there might be an odd part to make up the weight. You must eat all the meat within 15 minutes to get your money back and the steak is free. If you do not finish in time you lose. If you throw up you lose. If you attempt to cheat in any way you lose.
---
The Definition of "Eat"
"Eat" means that you must have completely consumed i.e. to have swallowed, all of the meat/fat/gristle on the plate in 15 minutes.
---
How it is Timed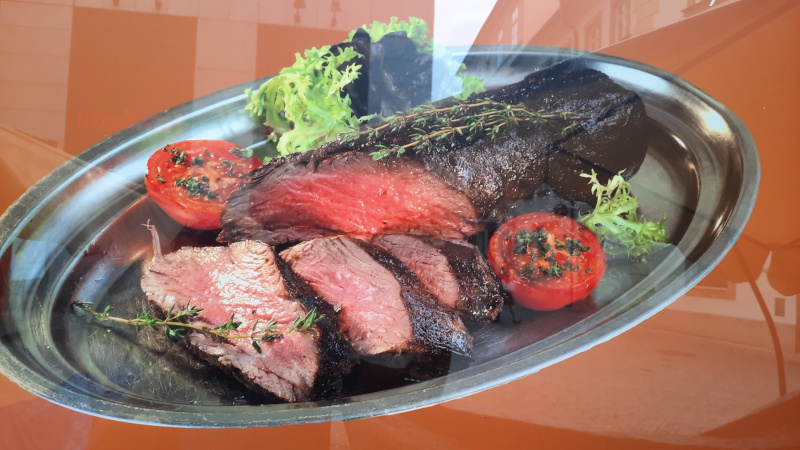 From the moment you touch and/or begin to cut the meat the clock starts. The official time clock is behind the bar and no other clock is accepted. A member of staff will witness the attempt. When you swallow the last piece of meat put down the knife and fork and the witness will call TIME. Simultaneously the bar clock will be stopped (when it gets near the end the bar staff will be hovering over the clock so there's no delay).
---
TIPS:
First, consider that this will put an unhealthy strain on your body and second, consider that the restaurant will be fairly sure that the majority of people will NOT be able to complete the challenge. If you decide to have a go then take a look at https://www.foodchallenges.com/strategies/how-to-win-a-steak-eating-challenge/ for some great tips about eating steak quickly from how to have it cooked, how to cut and what to eat first. Not on that website but I would also add that somebody should hold the plate down to prevent lost time if the plate moves when cutting.
---
Some Random Things to Do and See in Prague