Prague Photos
---
This is a collection of some of my favourite Prague photos that I've taken of the city over the years with a short description of what it is, where it is, maybe why I took the picture and if it's linked to an experience. No particular date or geographical order.
---
The first time I stumbled onto the Old Town Square it was in June 1996. A friend and I had been dropped off at Wenceslas Square and were trying to find our way to the James Joyce pub (old location). I've probably taken many pictures on the square in a variety of analogue and digital formats. The Old Town Hall is built with thousands of stones, it has beautiful tiling, coats of arms and clocks but for the purposes of this picture the late afternoon sun eliminates all that and leaves you with a simple silhouette.
---
I started off learning that the Rudolfinum was a concert hall. Actually in contains two different concert halls. Later I learned that it had been the location of a prison and a riding school before becoming the Czech Parliament up to the 1930's. Even later I learned that the building was built on old nitrate beds (they were self-sufficient in the production of gunpowder here and if you do a tour I'll tell you where they moved the earth to). But for me it's all about the beginning of the end of the Austro-Hungarian Empire. On the opening day of the building, no speeches were given in Czech language, only German. In fact no Czechs were invited to the opening of what was going to be the cultural centre of a German bank.
---
Many eras of art and design are celebrated at the Museum of Decorative Arts (well worth a visit). But the major part of the Cubism collection is housed at the Cubism Museum in Celetna. Most will come here for coffee at the Grand Cafe Orient. I came here to look at the staircase. This was one of the buildings that first triggered an interest in architecture. It's actually the first building built in Czech Cubism style. On the inside, no prizes for guessing why they call this the Lightbulb Staircase.
---
ST James is on my tour route in the summer as it's very cool on the inside. Most will come here to learn the legend of a 14th Century thief. For years I used to bump into a homeless guy who enforced the rules like no photography, making a donation if you took a postcard etc.
---
I had lived in Prague for several years but every now and then a question arose. One day on the picturesque Republic Square I happened to look down instead of up and there were markings of the outline of a kiln. Further investigation revealed it made bricks to build part of the Old Town city wall. This triggered a few weeks of research to eventually discover where the wall used to be, what's left of it, what replaced it and when. I just hate having an unanswered question.
---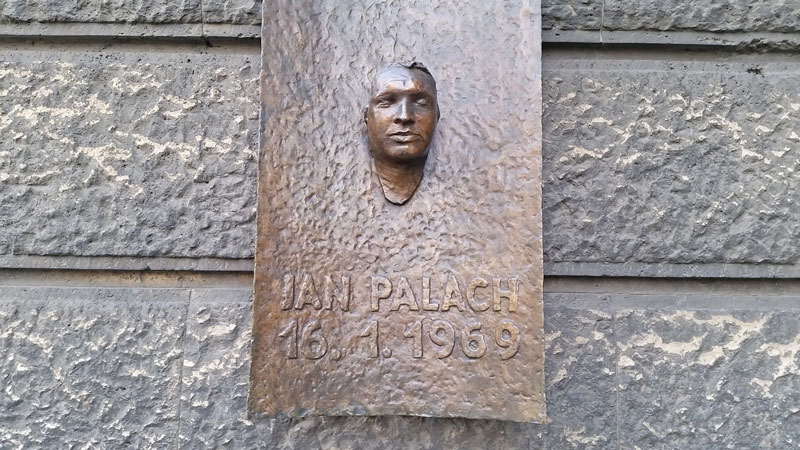 You don't spend long in this country before you hear about Jan Palach. He symbolised the feeling of the country after the suppression of the Prague Spring in August 1968. He chose one of the most iconic methods of protest in the late 60s, self-immolation. This was not a suicide although he accepted that death could occur and it did, 3 days later. Some of the stories that came out were the death mask taken by a guy who went on to become a famous sculptor (Olbram Zoubek) and the doctor who allowed the mask to be taken ran for president (Jaroslava Moserova, 2005). If I include this on the Old Town walking tour it's not unusual to see tears flowing.
---
It was when my Czech started improving that I became more interested in the buildings. If you look carefully you'll often find detail like the architect, the builder or something personal. In this case the inscription around the door says "Through the Window – Good Health, Through the Door, Good Will". I can't walk past it without thinking of the Lord of the Rings when they stand in front of the Gates of Durin.
---
In the aftermath of the Bataclan terrorist attack there was an outpouring of support for the French. This was in the Church of Our Lady Victorious.
---
I had actually been in the area to take some photos of the John Lennon wall. It had been about a week after Bataclan but new candles were still burning.
---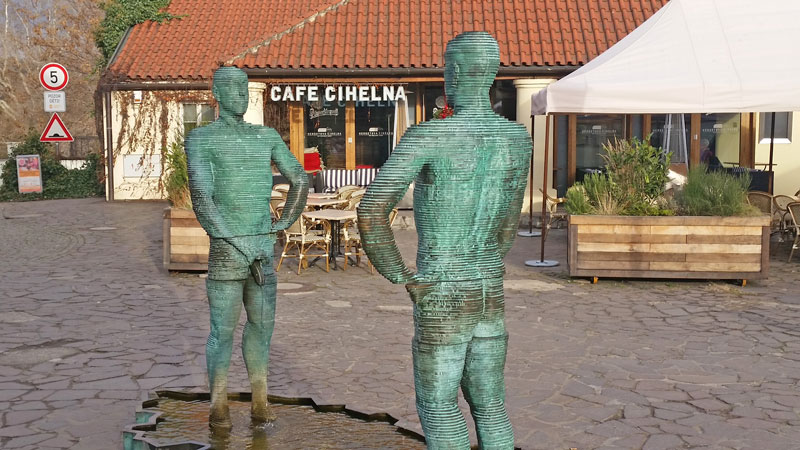 The memory is a bit blurry for the mid-90s but I'm pretty sure that the Pissing Men was the first David Cerny sculpture I ever saw. Later I actively searched them out and learned their stories. I never fail to enjoy telling people about any of the pieces but for some reason I find this is my favourite.
---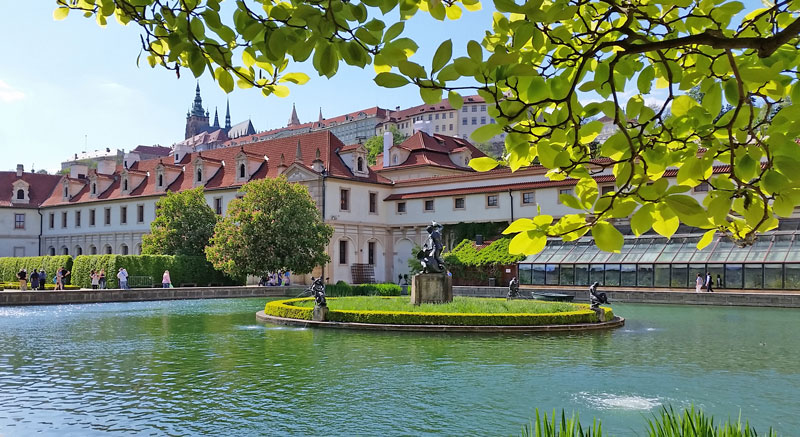 It was probably on my second or third visit to Wallenstein Garden that I saw the peacocks. Actually you'll either hear them first or you'll be drawn to a crowd of people. On this day in April I'd been waiting for the gardeners to finish their trimming work before I took the picture. I'd already taken 3 or 4 photos when splat! So now I know where one of the white peacocks likes to roost.
---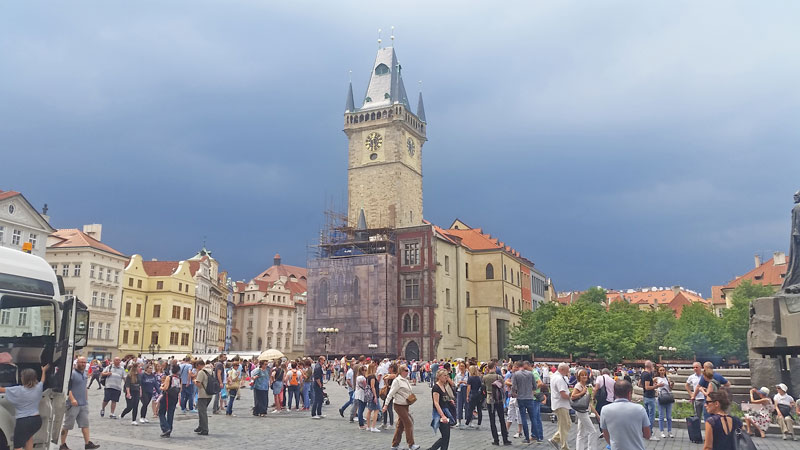 It was June 1st 2018 and the Old Town Hall renovation was coming to an end. I was waiting on the Old Town Square for clients who had booked a Prague City Walking Tour and I was at the meeting point watching a storm coming in whilst wondering how much time I had. In the end we ducked out into a cafe and watched the downpour for about 20 minutes before proceeding.
---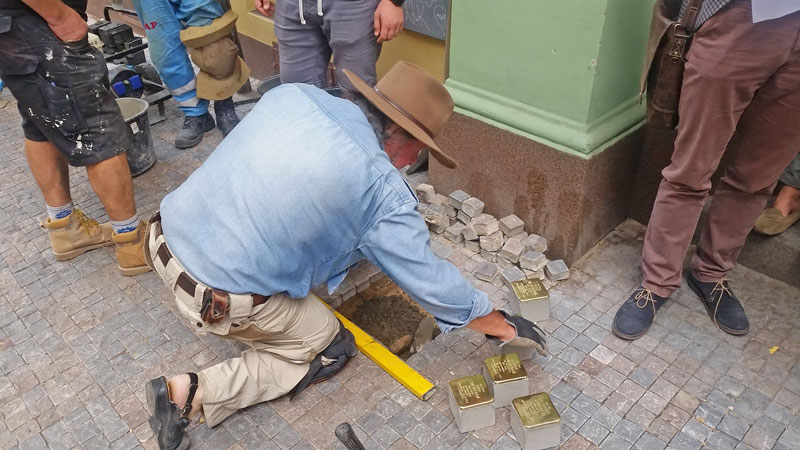 Not many people have ever heard of Stumble Stones. I first wrote about them in 2013 and then again when I had educated myself about this subject in 2016. On September 5th 2018 I was privileged to be invited to a laying ceremony and this is Gunter Demnig, the guy who has run this project for more than 20 years and laid more than 74,000 of these little blocks. This was a day that I will remember. Read about his work on the Stumble Stones post.
---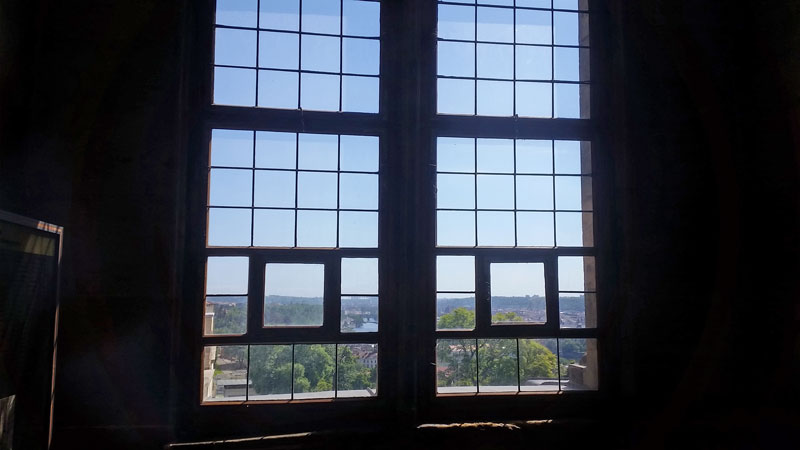 When you live in an historic city you cannot help but pass through spaces which have historic significance. In April 2020 I was at Prague Castle and had decided to visit the Vladislav Hall. This was in a time of coronavirus restrictions and I found myself standing in the room, in front of this window where in 1618 three people were thrown out. You can read about that on the Prague Defenestrations post. I was completely alone in that room when this picture was taken and knowing what was historically to come i.e. the Thirty Years War, 8 million killed and Catholic rule for the next 300 years, it made me shiver a little.
---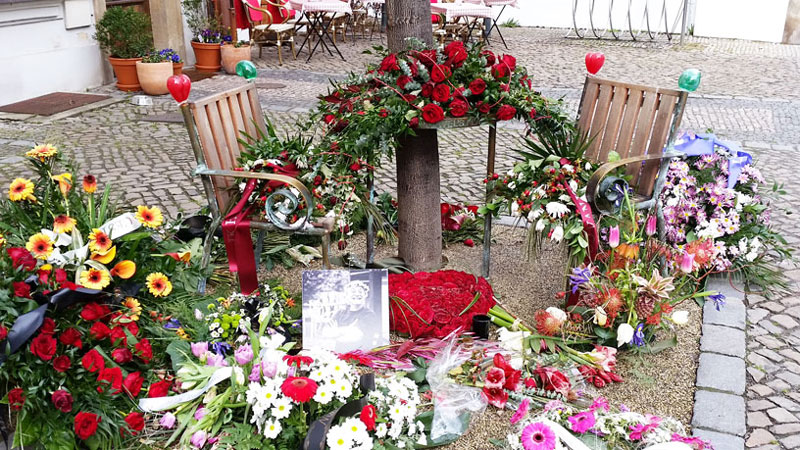 I first saw the chairs in 2005 the year after they were installed and I'll be honest in that I walked past them quite often without giving them a second glance because I thought they belonged to the cafe in the corner. Then one day a load of flowers appeared and I learned why the chairs (and table) mean so much more than just a table and chairs. It's one of the photos that took me on a deeper journey and you can read some of that journey on the Havels Place post.
---
I took many pictures on this day in July 2021 but when I looked back through them I thought that this one showed a typical Old Town street with the pastel colours, mosaic cobbles, shuttered doorways and windows reflecting onto the street. The only other person in the street was standing outside a small bar waiting for it to open and taking the chance to have a cigarette.
---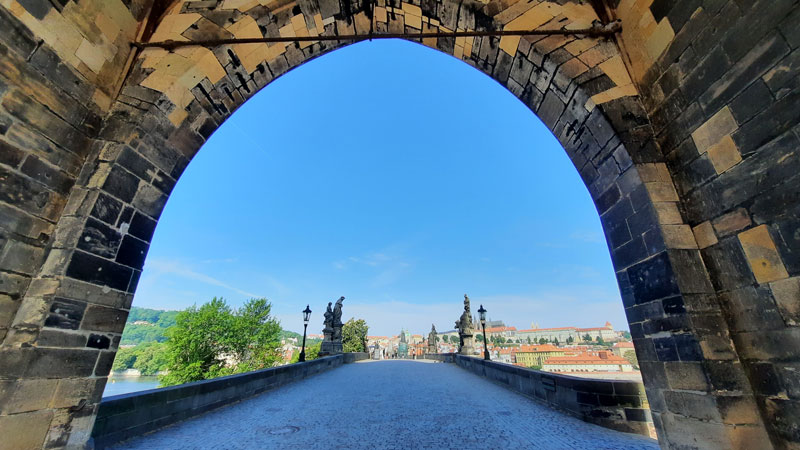 A photo mid-morning in early June 2021 of Charles Bridge with nobody in sight until you got close to the middle of the bridge and a single stallholder was touting for business. This will forever be a reminder of the impact on Prague tourism and on me personally.
---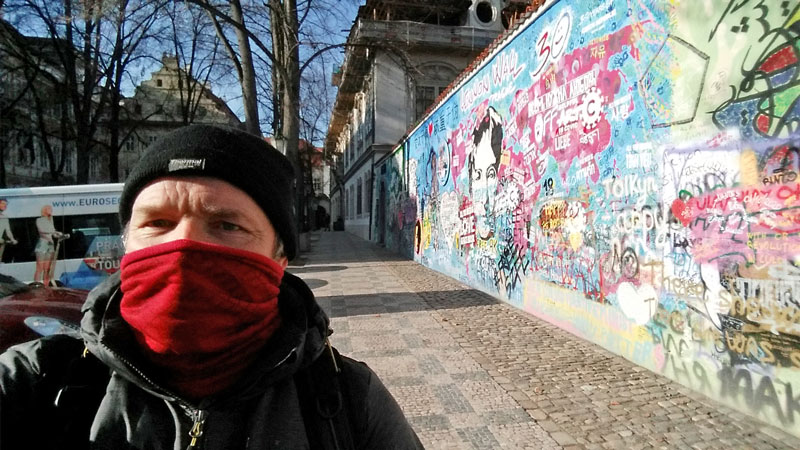 By March 2021 I was getting used to having the tourist sites all to myself. If you know how busy Prague can get then me standing on my own at the John Lennon Wall is not an easy picture to get. When the picture was taken we were still in a "state of emergency" so face coverings had to be worn in public places even though there wasn't a soul in view in any direction.
---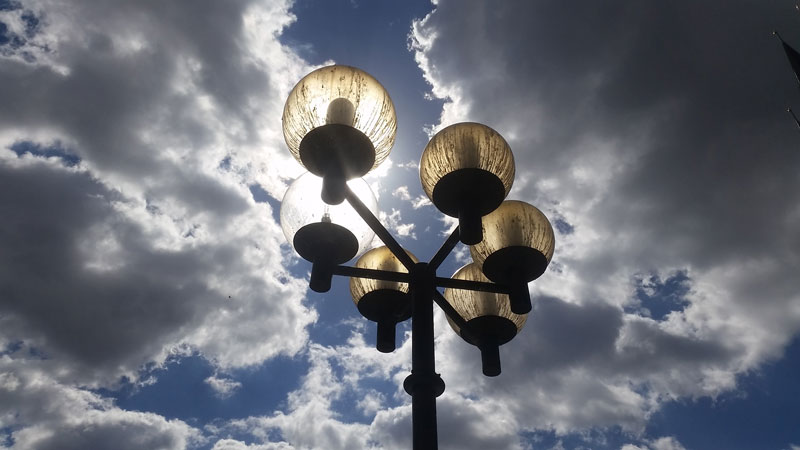 This was around 2019. A street lamp on the Old Town Square had been broken for ages and I thought it was not fixed because they had no spare parts for these "new" 1980s style lamps. Then one day one of the city's orange works vehicles turned up and replaced the glass bowl. It's easy to spot which one was replaced and I don't normally take pictures of street furniture but on this day it called me to take a picture with the dramatic background.
---