The Cheap Prague Guide
---
This is the cheap Prague guide so be prepared for real "money's worth" tips for cheap Prague travel, cheap Prague flights, cheap Prague accommodation, cheap Prague food, cheap Prague culture and a cheap Prague night out. We're not necessarily talking about value here although I'll show you this as well. I'm not even going to say that everything is legal but I'll point out if it's not. In my experience it's much more enjoyable to live here cheap in the summer i.e. when the weather is nice and you can stay outside more.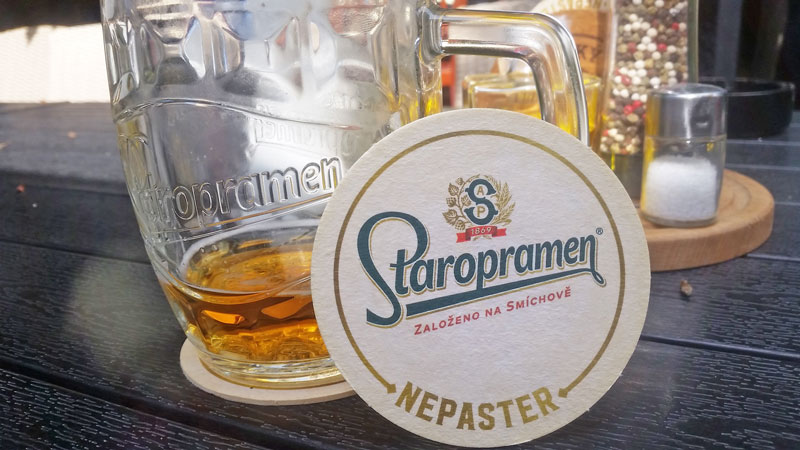 ---
ISIC
If you're a student then carry your ISIC card. Expect all the usual student discounts.
---
Cheap Prague Flights
Any flight booking website will be using a database of the most used and cost effective routes but not necessarily all possible routes or airlines these include sites like cheapflights.co.uk, travelsupermarket.com and http://www.skyscanner.net. In my experience the cheap Prague deals are gained in one of the following ways:
---
Booking a cheap Prague holiday package deal.
Booking a cheap Prague flight on a "no frills" airline well in advance (months in advance).
Travelling at the most inconvenient times of the day and or midweek.
Last-minute or Standby.
---
Cheap Prague Accommodation
You want cheap but you don't want a bare single room? Checkout the offer on AirBnB first. Since they changed from their house-sharing format to a regular front for apartments it's really driven down the prices so try them first if you are looking for cheap Prague apartments.
The ultimate in cheap Prague accommodation could be carried with you. Camping sites have sprung up over recent years especially in Troja which is outside the centre but, has an excellent tram link. Last year the high season at www.camp-sokol-troja.cz with two adults sharing a big tent (you bring the tent) was 410Kc per night. That worked out at U$17 as the TOTAL PRICE PER NIGHT FOR TWO ADULTS!!!!!! Even if you paid for tram tickets each way the price would still only be U$22 per day for two adults. This is cheap Prague at it's cheapest.
Second in the cheap Prague accommodation stakes is a dormitory/bunk in a non-central Prague hostel. An example of this is www.hostelboathouse.com which charges @350Kc off season rising to @400Kc for a multi-bed dorm but breakfast is included. By "non-central" this would mean a tram or metro trip into town. For those who want to stay off the trams etc I'd go for something which is not right in the centre but, a 15 minute walk or so from it. Cheap Prague hostel deals are common, just check what you are paying for i.e. breakfast included is a good deal as a cafe breakfast is not cheap and make sure they they have good lockers for your stuff.
Third in the cheap Prague accommodation stakes is a single room in a hostel without utilities i.e. bath/wc is on the floor but not in the room. You can add another 100Kc per person per night to the above prices for this offer.
To get Prague hotels deals in the 3 star range or above you need to stay more than three nights. Then you'll get the 4 for 3 kind of deal.
---
Cheap Prague Travel
Prague Public transport operates the "honour" system. You can ride without a ticket but, if stopped by official ticket inspectors you will be fined and if you can't pay they WILL call the police. Prague is fairly small and has fairly cheap Prague travel compared with other cities. You would be wise to include a Prague travel pass cost if you select accommodation outside the centre of town. In Prague, all central ticketing is the same price based on time of day and zones. Outside of Prague it's best and faster to travel by bus. Students get discounts on some services.
Hitch-hiking is allowed but, you cannot flag down vehicles on the motorway or slip road. www.studentagency.cz has a return bus trip to Brno (students 150kc, adults 200Kc) and Plzen (students 71Kc, adults 95Kc).
---
Cheap Prague Food
A loaf of Czech cut bread is currently @19Kc (60 pence). Joking aside this all depends on how healthy you want to be. If you have access to a kitchen then you'll find the supermarkets here are well stocked with meat, pasta, rice and cous cous to keep you going for a fraction of the price of a cafe/restaurant. If you do feel the need to venture in the direction of a cheap Prague fast food outlet then my advice is to go either to a Pizzeria where you can split costs between people or to a kebab shop where a regular doner kebab will cost you about 80Kc at present. Both are quite filling. Take-away pizza places like Pizza Factory sell slices starting at 25Kc. You'll find chocolate bars in the shops starting at @10Kc for snacks etc. A healthier cheap Prague food option is what the Czechs call a "Chlebicek". It's an open sandwich with toppings ranging from ham and cheese to crabsticks and mayonnaise. They will start @19Kc each and you find them in any shop marked as "Delicatesse" or "Lahudky". If you want to save money on chocolate bars etc then head for metro stations as you'll find stalls selling stuff at 50-75% off.
---
Cheap Prague soft drinks
This is not cheap, it's free. KFC operates a "free refill" policy i.e. you buy a meal and get unlimited top up for your soft drink. Of course some people have been known to take advantage of this service without buying the food ……
---
Cheap Prague Alcoholic Drinks
In the summer, people will go to the supermarket or potraviny (small shop – look for Zabka) to buy cheap Prague beer. Mainly Staropramen and Pilsner Urquell in tins and then take them to Kampa Park or Shooters Island to chill out and drink. A pack of four tins (0.5L each) should cost @50Kc. Compare that to even the cheapest of the bars and you'll find it's a quarter of the cost. Lately they've introduced 2L plastic bottles of beer if you are sharing.
Look for the free guides. For example at TGI Fridays in Na Prikope on the bar they have a stack of "Prague Menu" guides. In these you'll find that you can use adverts in this guide to get free beer and cocktails. Shopping centres and specific locations in the city will have potable water points for topping up your bottle.
---
Cheap Prague Culture
Almost all of the Prague galleries allow free entry to view the exhibition. Even private galleries allow lunchtime entry (although evenings may be reserved). The National Museum has FREE entry on the first Monday of each month. Students (ISIC) generally get 50% discount on entry to any of the National Museum and National Gallery sites. Rudolfinum often has a sponsored exhibition so it's free to enter.
Join a FREE sightseeing tour. When they say "FREE" it means exactly that unless you want to give a tip at the end and you don't buy anything when they stop at the cafe/restaurant. You know, a man or woman is walking along with 20 people milling along behind. Just hang around and listen in. You might even find it interesting.
Want to see an opera? Both the State Opera and the Estates theatre do matinee performances at half the price of the evening show. Of course if you just want to get cheap seats and you don't mind what you see, hang around the desk at TicketsBTI in Na Prikope. They get the returns 30 minutes before the performance starts. Cash only.
---
Cheap Prague Music
The Charles Bridge and the Old Town Square attract many different bands during the summer and you're bound to find one that you like. In May you'll bump into fringe elements of the Prague Spring Festival. Look out for both pop-up and free-to-air concerts like United Islands. Later, in November the Prague Jazz festival will find a lot of scratch bands playing around the city. At any time of the year many jazz clubs will offer free entry or tickets for under 5 Euros but just accept that you'll have to buy a drink there.
---