Women's Only Hostel
---
Apart from the grammatical destruction of the English language in the name I welcome this new addition to the Prague Hostel scene. For the first time you don't just have a female dorm or private room etc, the whole place is designed to be for women, hence the name.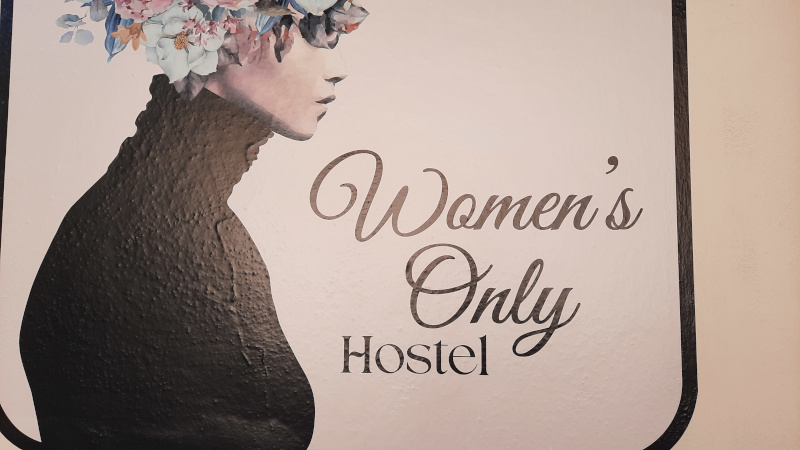 What triggered my interest was the sudden change in the use of the building. For years it had been a mix of an Indian Restaurant and a Jewellery shop on the ground floor with apartments above. In quick succession the restaurant was replaced by a pub, another shop came and went and the decorators moved into the apartments. So I was on the lookout to see what would happen to the apartments in the building that has previously traded under the name Ungelt Apartments (Note: Ungelt Apartments are still in the same courtyard but they are now next door to the hostel).
When the painting of the woman with the flowery hair appeared alongside the new name then I decided to have a look. At the time of writing it's still not fully open (they were still bringing in matrasses for the bunks) but the intention is to have a capacity of 75.
---
Women's Only Hostel – Configurations
Campus 1 is the main building with a reception open between 0900 and 0100. After that you'll be using electronic access or you'll call a number. There are some differences in that Campus 1 has bunk beds spread over it's 5 dormitories, it has a larger common area with a bigger kitchen, plus an external terrace but no lift.
Campus 2 is in a neighbouring building in the same courtyard, it uses the reception located at Campus 1, the beds in the 3 dormitories are all singles, it has the shared living/kitchen space and there is a lift.
Depending on the Campus there are 4-bed to 10-bed dormitory configurations all with lockable storage in the room. Having been here years ago when it was all classical furniture it seems odd to see the framed bunk beds on the parquet flooring but it does open up the rooms so they feel very spacious. The owners are rightly proud of this new configuration.
---
Location and Contact
It's located at number 6 in the Tyn Courtyard with a 60 second walk to the Old Town Square so you are fairly in the centre of things but taking advantage of a reasonably quiet courtyard which itself has two bars, two restaurants, a cafe and a Beer Spa. You'll find further details on the Women's Only Hostel website.
---
Something Related or a Few Minutes Away
Attraction – Church of Our Lady Before Tyn
Food and Drink – Dhaba Beas Vegetarian/Vegan
Activity – Old Town and Jewish Quarter Walking Tour
---
Some Random Things to Do and See in Prague