Prague Public Transport Tickets – The 30 Minute Decision
---
I'm not going to cover the whole transport thing here. I do that on the Transport page. This page is for when you are already in town and want to go somewhere else in town.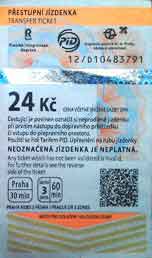 You really want to take that tram or metro because its tipping down with rain and you don't want to get soaked so you'll take one look at a DPP (Prague Integrated Public Transport) ticket machine and gasp at the number of buttons, colours and tariffs for Prague public transport tickets. Remember that the time starts when you validate/stamp the ticket and you can jump on and off the transport system until the time duration on the ticket finishes. Just put it all to one side and think "is this trip going to take less than 30 minutes?" because if you think yes then all you need is the 24Kc ticket shown on the left. However if you are not sure and that it could possibly take longer than 30 minutes then choose the 32Kc option.
If you've just walked into a tabak or anywhere that sells Prague public transport tickets and don't know how to ask for tickets simply point to the picture above for the 24Kc or the picture right for the 32Kc. Simple.
---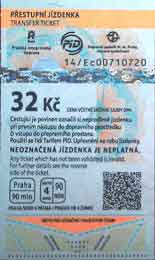 How to Buy Tickets
You do not have coins – Your option is to buy from a DPP ticket office, a Tabak (newsagent) or use a contactless credit/debit card either on the yellow machines at the stations or orange machines at stations or on trams.
You have coins – You have the option to use the yellow machines at the metro stations.
There are still many mechanical machines but they are being replaced so here's a guide on How to Use a Touch-Screen Ticket Machine.
---
Pre-validated Tickets
If you use any ticket machine on a tram or an orange box machine with a contactless card then the ticket is pre-validated from the time of purchase. Click on the "How to Use a Touch Screen Ticket Machine" link above to see an example of a pre-validated ticket machine.
---