Top Attraction – The Prague Castle Picture Gallery
---
The Prague Castle Picture Gallery hosts a permanent exhibition showing a fraction of the paintings from the collection of Prague Castle (there are more than 4000 in total), the oldest of which is a selection from the collection of Emperor Rudolph II but also you'll find more than one hundred unique works from Titian, Aachen and Rubens.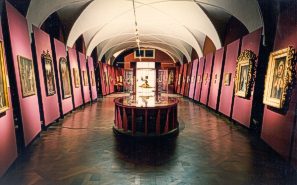 Despite the years damage to the Prague Castle Picture Gallery caused by neglect, war and devastating fires they remain the finest available works of art and compare favourably with the most significant European art collections. Prints by Giuseppe Arcimboldo depicting characters made out of fruit and vegetables make up part of the collection. There are different versions of the "Four Seasons" which were painted during the 11 years that Arcimboldo spent as the Royal Portrait Artist but others such as the "Rudolph II" fruit and veg picture was actually painted after he left royal service and returned to Milan.
The newer collection of the Prague Castle Picture Gallery since the 17th Century comprises significant works by Italian, German, Dutch, Flemish and other masters. These, together with Czech masters of the Baroque period, were purchased thanks to the Masaryk fund and are now installed for all to see.
You can pay to see the exhibition separately or when buying a Prague Castle tourist pass then choose "Circuit A" if you want the Prague Castle Picture Gallery to be included. Here are some Suggestions for Touring Prague Castle.
The main Prague castle website is at http://www.hrad.cz/en/prague-castle-for-visitors
---