Fat Cat – Flight of Beer Experience
---
I've had many flights of beer or what we call a "Beer Degustation" here but on a very warm and stormy July day I was passing the Fat Cat restaurant in the Old Town and the girls were wiping down the tables after a rain shower. So there was me 2-30pm, thirsty after 5 hours of touring and not driving because my wife had given me a lift into town so I was free to drink. Fat Cat is right on the corner of Karlova and Jilska so lots of people moving around. I just felt for sitting outside in the shade and watching the city with a flight of beer.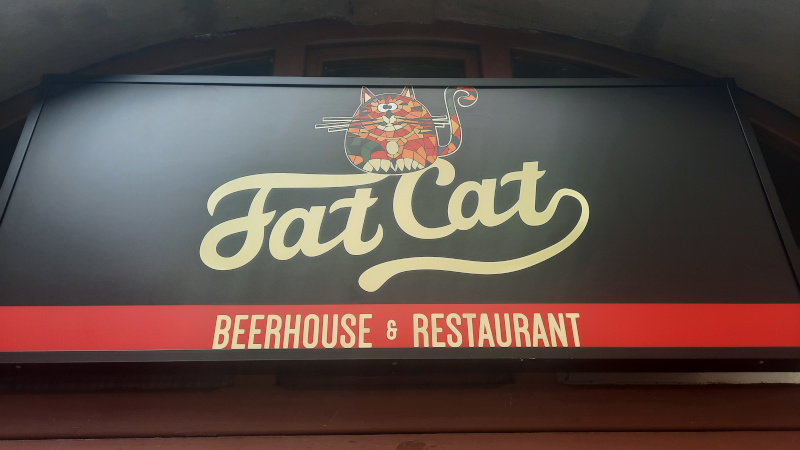 ---
A Flight of Beer
I love a flight. There's just something about not only the small glasses of beer but also how you drink them. Some people try a bit of each and go for their favourites. Others seem to go for the lights then darks. Me? I take them in the order that they are presented because I think a flight is all about trying new beers that you may not have realised you liked plus somebody may have already given some thought to the order. I'll be honest, this is a money maker for the bar. No way I'd normally pay @CZK400 for just over a litre of beer but it's a nice experience, colourful and you might even find a favourite to get a big glass later.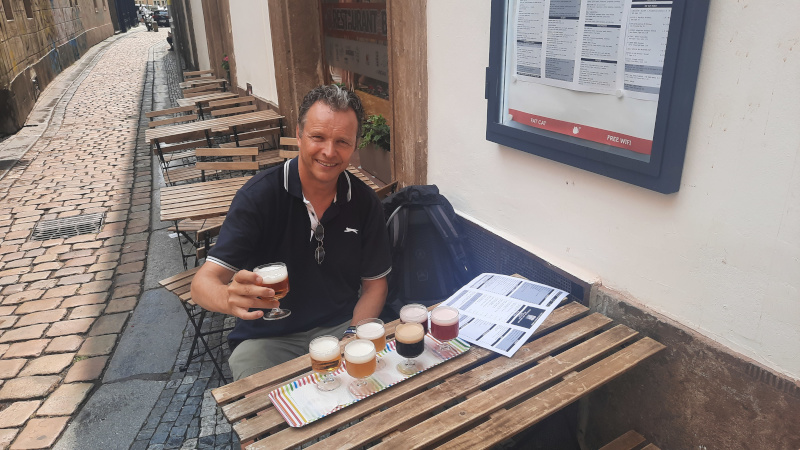 ---
The Fat Cat 7
I was looking at the menu and I noticed that the flight of beer at Fat Cat was 7x 0.17L so that's a total of 1.19L. I ordered and was presented with a long metal tray containing the 7 glasses plus a copy of the menu. At first I thought they were giving me the menu to order food but I soon realised that it had details of the flight of beer in the "On Tap Today" section. Just so you know, going top to bottom through the list of beers on the menu is the same as going right to left through the flight. The picture below has the details.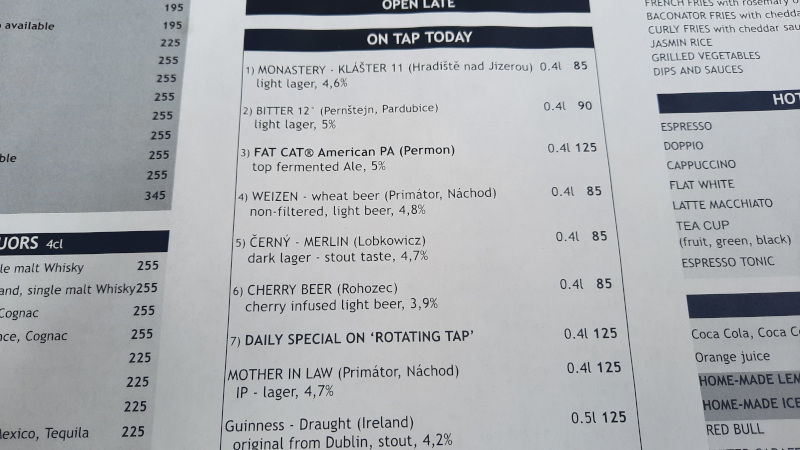 ---
The Order of Things
The Fat Cat flight is based on 6 permanent tap beers plus a "Rotating Tap" which is a weekly special. My flight broke down into 2 lights, a Pale Ale, a wheatbeer, a dark and a fruit. The 7th was always going to be a surprise and I believe my one was called "Joey in the Garden" or it might have been "Joy in the Garden". Either way this was a sour beer which was based on raspberry but with a hint of chocolate and mint. In the flight, the strongest was 5% and the weakest was 3.9% so if you feel a bit tipsy it's going to be the volume, not the strength. I'll be honest, the dark (Merlin 4.7%) was my favourite of the day.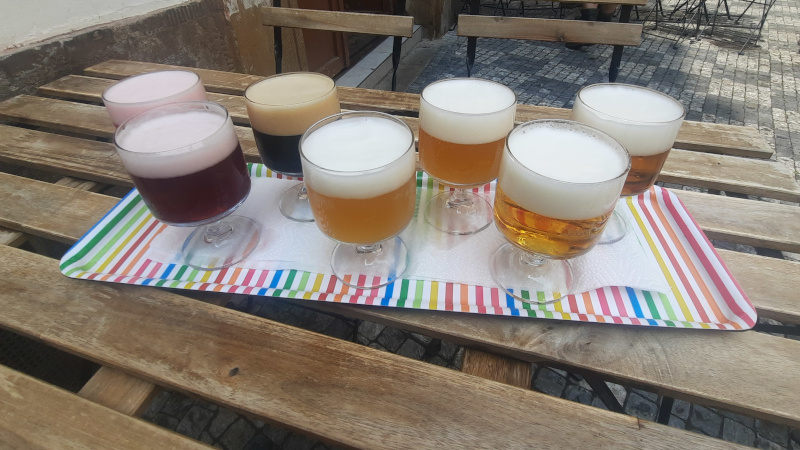 ---
My Thoughts
Super friendly service and English no problem. This place does burgers, wings, ribs and hot dogs but today was just a quick beer trip. Their address is Karlova 44 and the website is https://www.fat-cat.cz/.
---
Something Related or a Few Minutes Away
Food and Drink – Czech Beer, the Font of Eternal Youth
---