The Beautiful Prague Signal Light Festival
---
The Prague Signal Light Festival is a collection of places that utilise both man made and natural features in the city for the purposes of displaying 20 or more artistic light exhibits. Sometimes the light is the art, sometimes the dark part is the art and often it's the viewer who makes or is part of the art. Great for kids and adults alike, the most difficult bit will be forcing yourself to start at the beginning. Many historic buildings are used as canvases for the Signal Light Festival. I've been with kids and although several of the exhibits are just view-only there are others which are interactive and require some action to be performed from something as simple as touching materials to your body movements being displayed digitally on a screen. Because of the light aspect it's primarily a night attraction.
---
Where and When Is The Signal Light Festival?
The Prague Signal Light Festival in 2023 is between October 12th and 15th. Venues and maps will be published on the website at https://www.signalfestival.com/en/ closer to the date and there is also an app that you can download plus there will be physical maps available at the Signal Festival booth on the Old Town Square throughout the festival. Although the venues are not always the same, in the past they have included Republic Square, Old Town Square (Kinsky Palace), Rudolfinum, Shooters Island, National Theatre, Kampa Park, Peace Square and Prague Castle. Lately they've gone out to Karlin as well and instead of a start and finish they now have different circuits.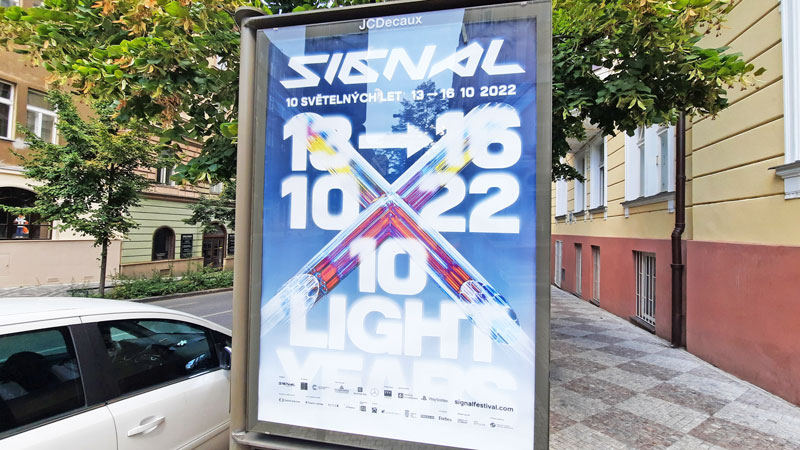 ---
How much does it Cost?
In general it's FREE! In previous years only the Dome (Malostranska Metro Station) and maybe one or two others have paid entry so that means more than 90% of the exhibits are free to see.
---
My Advice
If you want to see everything at the Prague Signal Light Festival then that's about a 12km walk through the city and you would need to allow at least 8 hours so realistically you have to split this over two nights or just go to the places that you want to see. Roads will be closed during this event and there'll be huge crowds of people walking between exhibits so if you have kids with you then keep them close and agree a meeting point in the event of separation. It can also be cold so check the Hot Alcoholic Drinks post.
---
Some Random Things to Do and See in Prague