Prague Private Transport Options
---
This page deals with Prague private transport options like taxis, private bus and coach, car hire, boats and bikes. If you want public transport info (metro, trams, trains etc) then click on the Public Transport page.
---
Prague Taxis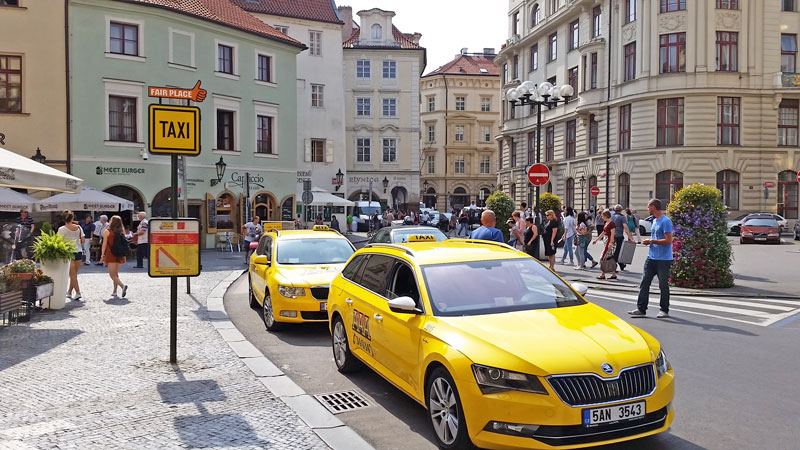 Prague has a bad reputation with taxi drivers but it has been improving. If I use a taxi then usually it is AAA Taxi as they are not expensive and the operators speak English, just dial 14014. Another option is Profi-Taxi on 14035. Hailing taxis on the street or using a taxi parked in a major tourist area is still hazzardous and is not recommended. It is not even safe to let them use the taxi meter as many are rigged. If you are going to your hotel, ask at the reception if the price the driver wants is correct as this simple action will often result in the driver backing down, not wanting to get the Police involved. As a rule, try and give the taxi driver a piece of paper that clearly shows the address for where you want to go. Prices should be clearly displayed on the side of the taxi. The most common transport tariff in central Prague will be 40, 28, 6. This means the moment you get in the taxi you are charged 40kc, each kilometre after that is 28kc and waiting time is charged at 6kc per minute. Watch out for and avoid taxis displaying max99, max99, 6. Obviously the cost could skyrocket depending on what tariff the driver uses as well as the entry charge. Your hotel will give you an idea of how much a Prague taxi should be depending on your location. There is an official complaint procedure but, it is so complex and requires so much information as to make it not practical for a tourist. There's now an updated No Stress Guide to Using Prague Taxis or if you are used to using them, check my Uber in Prague post.
---
Bus/Coach Private Prague Transport
There is a transport network of coach lines which is mostly operated by state bus company Ceska Autobusova Doprava (CAD) and more recently the Prague private transport company Student Agency (www.studentagency.cz – yellow coaches). Student Agency long distance coaches tend to be faster, more frequent and cheaper than trains and CAD buses. Get timetables and reserve places by email, then pay at their offices in Prague.
Long distance domestic coaches and International coaches depart from the main bus stations at Florenc or Andel as do buses to most regional destinations. Schedules and fares are available at the departure point. Long distance domestic bus tickets are sold from the ticket counter and the regional ones are also sold on the bus.
Students also qualify for bus discounts at the GTS site www.gtsint.cz travel site (English option) which co-operates with existing public bus services on routes from Prague to other European cities.
---
Car Hire
I've now written a Car Hire page with these details.
---
Boat Hire
Private Prague transport relating to boats during the Summer is mostly small scale and for pleasure. The Paroplavba (http://www.paroplavba.cz – Prague Steamboat Company) harbour is located on the east bank north of the Palackeho bridge, 2 blocks from metro station Karlovo Namesti (exit to Palackeho namesti).
Enjoy a 55 minute cruise to the Vysehrad castle for 150Kc. The boat leaves in summer daily every hour (first at 10 am, last at 6 pm). Enjoy a cruise through the wild, green landscape to the big dam at Slapy. The boat departs in Summer on Friday, Saturday and Sunday at 9 am, arrives back at 6:30 pm (@350Kc return). Also, you can take a boat to the Prague Zoo (3 times daily, last boat back at 1700).
You can hire a row boat or pedal boat next to Palac Zofin on the Slavonic Island in Summer for 80kc per hour but, be prepared to leave a hefty deposit (2000kc) or identity document.
---
Bike Hire
I've now written a Tours on Wheels section for organised tours which includes Bikes, eBikes, eScooters and Segways.
The Czech countryside/parks are nice places to ride a bike especially in summer and a suggested destination might be somewhere like Brevnov (at the end of the number 18 tram). Or maybe Pruhonice Park where you would get the metro to Opatov and cycle the 4km to the park. There is a special bus service in the Summer that takes people and their bikes up to Liberec to ride around that area. There are also posted cycle routes that surround Prague but, are mostly located to the south. You can hire a bike at Praha Bike (www.prahabike.cz) for short duration trips. For organised tours on bikes, scooters and segways etc then check the Tours on Wheels post. Runs April to October.
There is a company called Velotrixi (www.velotrixi.cz) offering escorted tours in a hired "3-wheeler" type of bike. The main city tour is 600kc for a 45 minute trip around town but, they do shorter trips which stay only in the really central area for 200kc. Most of the route is pedestrianised or on slow-moving roads. However, if you cross the river it's a bit hairy when you are doing 11km/h and everybody else is doing 50km/h.
There's also a great resource in http://www.praguebikeblog.blogspot.com (Grant's Prague Bike Blog) where you can read about how a resident enjoys biking in Czech. Also has great photos.
Finally, a great site has started at http://www.laduv-kraj.cz. It lists details of route numbers 20 to 30 which are in South-East Prague. As well as a good map it also lists route details like total length, length between villages, altitude and accommodation/attractions along the way. Multi-language site.
---