Top Prague Attraction – The Vladislav Hall (Old Royal Palace)
---
For this we go to the Prague Castle. The Old Royal Palace was one of the original buildings in the castle complex and adjoined to the All Saints Chapel (now the All Saints Church). The Vladislav Hall was added later. If you here talk of "defenstration" it was from windows in this building that the two governors and a scribe were thrown. The view from the hall overlooks the adjacent gardens. Built as part of the original plans in the late 9th century, the original Old Royal Palace wooden building with a stone foundation was converted into an entirely stone Romanesque palace in the 12th century but you'll have to go into the basement to see the old foundation. At the same time as the reconstruction they added the All Saints' Chapel.
For most of the 15th century the complex was deserted following war and financial hardship and the Royal Court was located in what is now the Old Town. In 1483 king Vladislav Jagiello moved the court to Prague Castle and commenced the last large-scale reconstruction of the Old Royal Palace. The Vladislav Hall was added to the complex in the style of late Gothic combined with the fashionable Renaissance elements. After a fire in 1541 the Diet and All Saints' Church were rebuilt.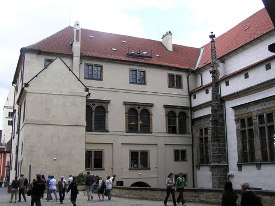 From the 16th century the Vladislav Hall at the Old Royal Palace served as a location for royal state occasions. It was the scene of coronation festivities, banquets, and tournaments. The Vladislav Hall still hosts state functions namely the elections for President of the Czech Republic (until 2014) and ceremonial gatherings connected with important nationally recognised days. From a historical point of view, on one side of the Vladislav Hall are the imperial General Assembly (Diet) and the Ludwig wing (Chancellory). In 1618 at the beginning of the uprising of the Czech Estates, two governors and a scribe were thrown into the castle ditch from its window (defenstration) which marked the first conflict of the Thirty Years' War (1618-1648). They survived by the way and in a strange footnote, the scribe was later enobled with the title "Baron of the High Fall".
The observation gallery on the southern wall of the Vladislav Hall affords a beautiful view of the Garden on the Ramparts (South Gardens) and of Prague. The exit from the Vladislav Hall is via the Riders' Staircase, built for mounted knights to enter the hall on horseback in order to take part in the tournaments held inside. As you walk past the south side of St Vitus the pathway will narrow and naturally your view will be of the ST George Basilica at the far end of the square but you'll see the Old Royal Palace on your right at this point. Well worth a visit to the Vladislav Hall but please note that the All Saints Church although viewable from the hall, it has no public access except for special religious services.
---
The main Prague Castle website is at http://www.hrad.cz/en/prague-castle-for-visitors
---