U Modre Ruze – CLOSED – Building being renovated in 2023/24
---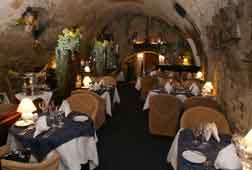 U Modre Ruze (at the place of the Blue Rose) has a central location, serves great food and is in an historic 600 year old building. U Modre Ruze is an example of a cavern-style restaurant without the claustrophobic feelings you might get by descending into a basement so as well as the food, the "cavern style" is why I'm recommending it. The lighting is provided by table lamps giving each table a personal touch. A table for two is fine but a table for four can be a bit of a squeeze if you have a few side dishes. Definitely a stop for those who feel for eating in a Gothic cellar.
---
U Modre Ruze – The Food
U Modre Ruze has separate menus depending on your taste. The main one is the "a la carte" where you choose from the entire menu. The Bohemian and Gourmet menus are fixed course for a fixed price with the Bohemian leaning towards the Czech style food whereas the Gourmet goes for what the Chef considers to be the best of the international offer. Both menus are in a "mini-degustation" style of 4 courses. Its a well balanced menu with good fish options and they have three or four good variations on roast duck. Note the strange twist on the Cesar Salad where they use Tandoori chicken.
My favourite: my personal favourite would be the stuffed sole but as you're here to try Czech food then the Czech Plate is a good option as it includes duck and pork. If you can make the space you should also try the crepes (pancakes filled with ice-cream and fruit).
---
The Location
Rytirska is the road with the Estates Theatre at the far end. If you were standing in front of the theatre looking at it the restaurant is behind you on your right about 50 metres (look for the man sitting on the bench). From the Old Town Square walk in the direction of Wenceslas Square via Melantrichova and you'll come to Rytirska (the road with the pedestrian crossing) and U Modre Ruze is over the otherside two doors down.
Rytirska 16
Prague 1, Old Town
www.umodreruze.cz/en
---
Back to Czech Restaurants
Back to All Restaurant Categories
---
Tour Tips: Here are a few Food Tour options that have been around and established themselves as high quality food activities in Prague.