Taverna Di Bacco (formerly Vino-di-Vino) – CLOSED IN 2021
---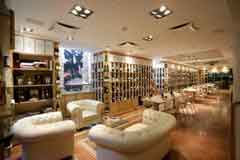 This was formerly called Vino di Vino. Large windows and light furniture give Taverna Di Bacco a modern easy feeling, no red and white tablecloths and onions dangling from the ceiling etc. Certainly a place for people who appreciate wine first and want to have a good meal with it as there's a choice of over 500 wines. The table layout is minimalist if not barren but once the food arrives on the table you've not got anything to distract you from it. The bistro/shop on the ground floor has a few tables but it's downstairs in the modern cellar where you'll want to be.
---
The Food
The A La Carte menu at Taverna Di Bacco follows the Italian format of a starter and/or soup followed by the first course of pasta/risotto and a second course divided into meat and fish dishes plus of course, dessert. There's a mix of dishes that would be instantly recognised by anybody who has the most rudimentary knowledge of Italian cuisine like anchovies, tagliatelle, ravioli and prosciutto etc mixed in with a hint of Czech in the form of beef slices, lamb chops and suckling pig etc but prepared in an authentic Italian style. Something for everyone here but don't expect a "family" restaurant. This is a slick business.
My Favourite: I pass on the starters and go for the Ricotta/Artichoke ravioli as a first course and the beef fillet with roast potatoes and my second. Dessert would be the house Tiramisu. If you know Italian wine then you'll find something here but my advice is to make room for a Grappa before coffee.
---
Location
Štupartská 769/18
Prague 1, Old Town
http://tavernadibacco.cz/en/
---
Back to Italian Restaurants
Back to All Restaurant Categories
---